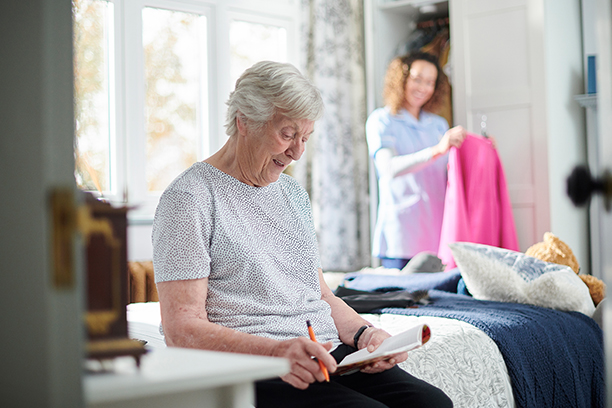 Let an Angel Help You Care for Your Loved One
In a perfect world, you would be able to take care of your aging parent in your home or theirs, relying only on family to help you. But the reality is that caring for an aging or ill parent is a full-time job that can take a toll on the caregiver; add to that the demands of raising a family, working, and other responsibilities, and chances are you'll need a little assistance along the way.
That's where the angels come in. Visiting Angels is a national network of franchised non-medical senior homecare agencies providing senior homecare to help elderly and older adults continue to live in their homes. These caring, experienced home caregivers provide hourly up to 24-hour care in the comfort of your own home.
You can be confident that your caregiver is qualified and has excellent references. We at Visiting Angels know that character counts so we hire only experienced caregivers who pass a rigorous screening process. The company also emphasizes the intangible traits of the caregiver, such as a caring personality. Many of the company's caregivers have grown tired of the Medicare model taking over healthcare and appreciate the opportunity to do one-on-one personal care.
The staff at Visiting Angels works with each family to develop an individualized program to manage the daily needs of the client. They then match those needs to the best possible caregiver; caregivers are then introduced to the family, who has the final say in the selection process.
We want our clients to look forward to a visit by their caregiver. That's why the client is in complete control from start to finish. After the caregiver has been placed in your home, the company continues its personalized contact through telephone check-in and home visits to make sure you and your caregiver are a good match.
Although Visiting Angels are non-medical caregivers, they can provide a vital link in patient care. In cases where seniors are coming home from the hospital or a nursing home, the caregiver will consult with doctors, nursing home staff, social workers, physical therapists, and of course, the family, to establish each client's personalized needs. In addition, although Visiting Angels do not dispense drugs, they can help monitor whether the patient is taking their medication.
In addition to offering joyful companionship, Visiting Angels will also do light housekeeping, run errands, prepare meals or do shopping -- other ways they can provide a respite for families dealing with the care of a loved one.
Visiting Angels has over 500 senior homecare agencies nationwide and is now pleased to be serving North Mississippi. We are located at 398 East Main Street, Suite 206, Tupelo, MS. For a complimentary assessment please contact us at 662-432-1900 or visit our website at www.visitingangels.com/northeastms.
Serving Tupelo, Corinth, Oxford, the Golden Triangle and Surrounding Areas
Visiting Angels
NORTHEAST MISSISSIPPI
344 N Spring St
Tupelo, MS 38804
Phone: 662-432-1900
Fax: 662-404-7022