In Home Care in East Lansing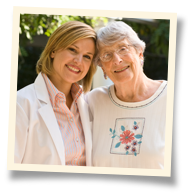 It's hard not to worry about an older loved one who's living alone, especially this year. As an in home care agency, Visiting Angels® East Lansing provides dedicated support to seniors living on their own. We appreciate the physical and emotional challenges faced by older individuals. Our friendly, empathetic team is always here to support isolated seniors.
If you're wondering how best to reduce feelings of loneliness or stress for a grandparent or other older relative, here are a few suggestions from our care team.
3 Ways To Reduce Loneliness For Your Loved One
Loneliness can have a real, profound impact on quality of life and health. That's doubly true for seniors. Keeping this in mind, here's how you can reduce loneliness for a family member:
Send them some snail mail. Receiving unexpected mail can be an immediate boost of endorphins. And it can be easy to manage from your end. Send a postcard or take turns writing letters back and forth. Have your whole family put together a care package to send your loved one. It can be a wonderful way to let them know they're on your mind, and they matter to you.
Get them on the internet. If it's possible, help your family member get set up online. You may have to talk them through tech issues over the phone, or find other creative ways to make sure they can access the internet. From there, you can share family photo albums, exchange emails, and even set up a regular video-conferencing session with the whole family. It's a great way to open up new opportunities for connection.
Set up trusted caregiver support. A trusted caregiver can help your loved one stay in contact with you and your family. At Visiting Angels East Lansing, our in home care professionals can help seniors navigate technology, engage in cherished activities, and even participate in light exercise like walks. For clients who are isolated and lonely, we make sure caregiver visits are filled with conversation, companionship, and support.
Your Trusted Team For In Home Care in East Lansing
With our in home care team, you can set up high-quality, compassionate care services in:
East Lansing
Corunna
Durand
Linden
Swartz Cree
Owosso
And throughout the surrounding area
Our caregivers are committed to improving the day-to-day lives of every client we work with. With our team, it's easier than ever to look after your loved one.
Have questions about our in home care services? Set up a consultation with Visiting Angels East Lansing at (989) 314-0457 today.