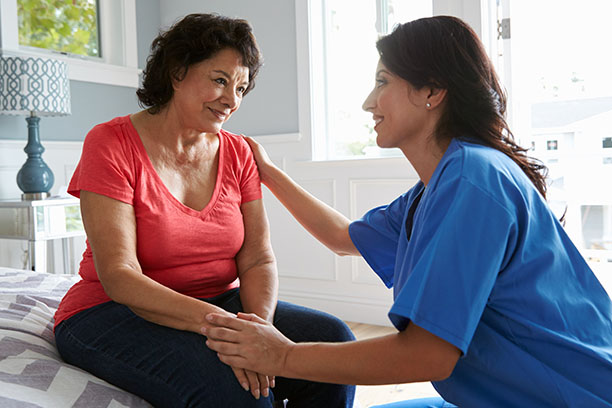 Dementia Care in East Lansing
When a senior suffers from Alzheimer's and dementia, it often leads to more than just the loss of their memory. They can lose their dignity, too. Professional dementia care from Visiting Angels® East Lansing can prevent that from happening by providing dignified senior care for them, right in their very own home. Our exceptional caregivers bring care and support to seniors with memory loss that preserves their independence and restores their dignity.
Our Dementia Care Services in East Lansing
The effects of memory loss on your loved one can change drastically from one day to the next, so in order to be effective, their care needs to be flexible. The dementia care strategies we use at Visiting Angels East Lansing were created through a partnership with the Alzheimer's Foundation of America and designed to provide support for seniors at all stages of the disease.
Some of the things our dementia care service at Visiting Angels East Lansing can provide for your loved one include:
Dignified assistance with washing, grooming, and dressing
Steady hands to guide them safely between their bed and chair
Uplifting companionship to bring them comfort and joy
Another pair of eyes and ears to prevent accidents from occurring at home
Help with light housework and errands to keep things running smoothly
Meal preparation to ensure that they maintain good nutrition
Reminders about when to take medications and fill prescriptions
Free Dementia Care Consultations for East Lansing Area Families
Alzheimer's and dementia are some of the most difficult and frustrating diseases a family can encounter, so we make getting answers as simple and stress-free as possible through our in-home consultations. It's a service we provide to our community free of charge and with absolutely no strings attached, so that families can get the information they need to make decisions about their loved one's care with confidence. When you call us, one of our expert care directors will come right to your door to discuss your options with you and answer any questions you may have.
In addition to East Lansing, we also provide free dementia care consultations to the neighboring communities of Owosso, Meridian Charter Township, Bath Township, Fenton Township, Flint Township, Clayton Township, Argentine Township, Caledonia Township, Linden, Corunna, and Durand.
Creating a Unique Dementia Care Plan for Your Loved One
Whether your elderly family member in East Lansing is currently facing the effects of early-, mid-, or late-stage dementia, we will be able to support them at home as they deal with their symptoms. As we get to know more about their condition, we will design an individualized plan of care that covers all of their needs. In addition, this program of home care services will be built with their future needs in mind. We understand that seniors with dementia often experience rapid changes, and we are always ready to adjust our care recipients' plans to accommodate new requirements and scheduling preferences.
For example, while your loved one is in the early stages of dementia, they may only need a helping hand around the house and a few reminders here and there. As their symptoms progress, they will begin to need additional forms of support, such as assistance with completing personal care tasks and aid with general mobility. During the later stages of dementia, they will likely require frequent support and help with basic activities such as eating and getting out of bed.
Of course, every dementia diagnosis is different, and different diagnoses suggest different risks, underlying causes, symptom patterns, and progression expectations. You can trust that we will be able to build a plan of care specific to your loved one's individual diagnosis and lifestyle preferences.
For example, our services can support elderly adults in East Lansing with care requirements related to conditions such as:
Huntington's disease
Lewy body dementia
Creutzfeldt-Jakob disease
Down syndrome
Young-onset dementia
Mixed dementia
Vascular dementia
Parkinson's disease dementia
Frontotemporal dementia
And other memory disorders
Understanding the Benefits of At-Home Dementia Care in East Lansing
When your loved one is already struggling with the effects of memory lapses and is feeling disoriented, a move into a dementia care facility may not be the right choice for them. Relocating to new surroundings can increase confusion and trigger feelings of anxiety and emotional outbursts. Not only will your loved one have to deal with the emotionally difficult process of leaving the place they've long thought of as home, but they will also have to adjust to the unfamiliar rules, routines, and environment of the facility.
They can skip this difficult process by instead choosing at-home dementia care in East Lansing. We will ensure their caregiver is prepared to support them with their many daily needs and increase their quality of life as they benefit from the comfort of home and the familiarity of their longstanding daily rituals.
Book your free, in-home consultation on dementia care by calling Visiting Angels East Lansing at (989) 314-0457 today!
Serving Shiawassee County including East Lansing, Linden and the Surrounding Areas
Visiting Angels
OWOSSO, MI
215 N Water St #140
Owosso, MI 48867
Phone: 989-314-0457
Fax: 989-569-1299