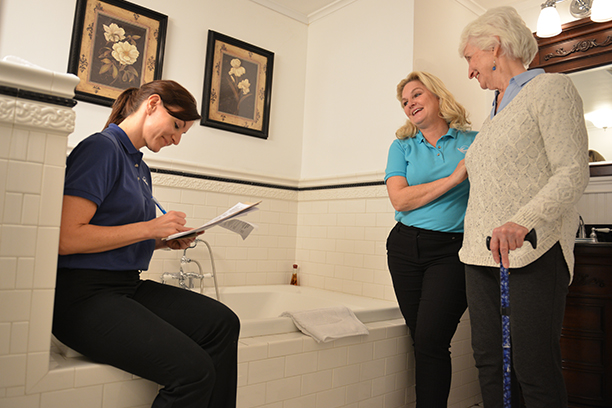 Affordable Home Care
At Visiting Angels North/NE Portland, OR ,we know you want the best possible in-home care for your loved one. Finding affordable in-home care your family can trust is essential. We can help.
When a loved one needs in-home care services, the list of questions seems endless. How will we manage? Will Mom be able to stay at home? Who will help Dad when I'm at work or with the kids? Can we afford an in-home senior care provider?
Customized In Home Care
Families across the country rely on Visiting Angels to be their partner in affordable in-home senior care. Our customized in-home care plans help your loved one get the help he or she needs. Each client we serve requires a different level of care and has a unique set of service needs. From occasional respite care for the family caregiver, to temporary care while the family caregiver is out of town, to daily visits, we can manage any level of support your loved one requires. Our customizable in home care plans make it easy for you to schedule caregiver visits that meet your needs and work within your budget.
Visiting Angels North/NE Portland,OR office offers flexible in-home care that includes:
Temporary or long term care
Weekday, weekend or holiday care visits
Day time, evening, overnight, 24 hour, or live in care
Respite care
Alzheimer's or dementia care
Assistance with activities of daily living
Keeping In Home Care Affordable
The cost of in-home care will vary across the country and based on the individual needs of each client we serve. Our local franchised offices offer affordable home care hourly rates that make it possible for you to schedule care as needed and to keep to your budget.
With in home care from Visiting Angels, our clients are able to continue living at home for as long as possible. We can also provide supportive care services to seniors in assisted living facilities who need additional support. When you choose Visiting Angels for in home care services, you can find peace of mind knowing your loved one will receive compassionate care from a friendly caregiver. You can also be confident the home care being provided is affordable while meeting all your care needs.
At Visiting Angels North/NE Portland,OR ,we understand that budgets aren't unlimited. That's why we work with our clients to create a schedule of visits that works with their needs and budget. Many of our franchised locations accept long term care and other insurance coverage to help offset the cost of care.
With Visiting Angels, you'll receive a partner in care who understands your concerns, needs and care preferences. We'll work with you to help your loved one live a robust, active and happy life in the home they love.


Serving Northern Portland, Upper South East Portland and the Surrounding Areas
Visiting Angels
PORTLAND (NORTH), OR
5263 NE MLK Blvd #B
Portland, OR 97211
Phone: 503-367-5134