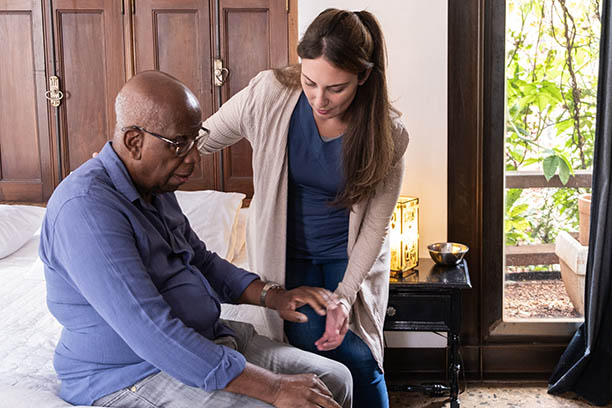 Certified Palliative Care Throughout Pottstown, PA and Neighboring Communities
Visiting Angels Offers Palliative Care to Seniors in Pottstown, Sanatoga, Chester Springs, Gilbertsville, and Surrounding Areas

Visiting Angels of Pottstown's Certified Palliative Care provides our aides with the skills they need to improve a client's quality of life by focusing on their emotional, physical, social, and spiritual needs. In essence, this program goes beyond the typical construct of care. Instead, we offer compassionate assistance regardless of life expectancy, giving comfort and support to seniors who need a friendly, skilled companion.

Though they both share some similarities, they are quite different. At their core, both seek to improve the quality of life and relieve discomfort. However, when we speak of hospice care, we refer specifically to end of life care. On the other hand, palliative care is traditionally for seniors who require support that is primarily focused on their well-being and comfort, no matter what their life expectancy may be.
Certified Care Program
Via our Life Care Navigation™ collection of senior care services, Certified Palliative Care is provided when you enlist care for your loved one. End of Life care is also offered through our Life Care Navigation™, which can provide your loved one with compassionate and respectful aid during the end of life process. Thanks to our Certification Program, our caregivers are well versed in our philosophy of care, one that is supportive, comforting, and soothing, that approaches care with a holistic mindset. Our primary mission is to assist with healing and restore hope to seniors who need non medical home care to continue to age in place in the calming environment of their own home.
To do this, we focus on their emotional, physical, social, and spiritual needs:
Emotional: By adopting a compassionate approach, we help elderly clients who may be suffering from anxiety, stress, depression, or loneliness.
Physical: Our aides recognize and respond to common signs through our non medical care.
Social: By building relationships with loved ones and their families, we ensure communication, increase social interaction, and provide companionship and conversation.
Spiritual: By restoring hope, we give elderly clients relief and comfort from age-related difficulties, treating them with the dignity and respect they deserve.
Getting Started with Visiting Angels of Pottstown
Do you have a loved one who is in need of care in Pottstown or the surrounding area? If so, trust Visiting Angels of Pottstown to help your family. Call us today, we'll be happy to answer any questions regarding our Certified Care program or any of our other specialized senior care plans.
Serving Pottstown, Sanatoga, Chester Springs, Gilbertsville, Neiffer, and the Surrounding Area
Visiting Angels
POTTSTOWN, PA
2129 E High St
Pottstown, PA 19464
Phone: 610-906-1924