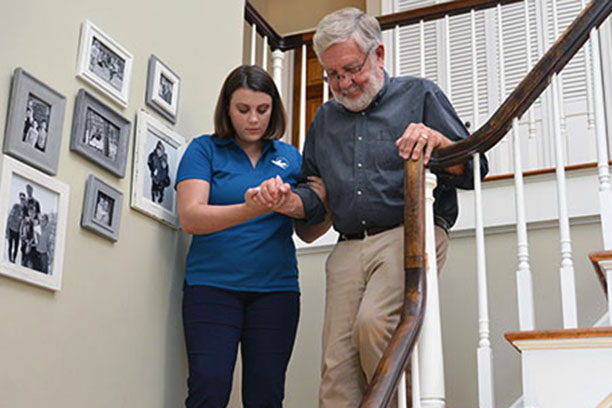 In Home Supportive Services for Fall Prevention in Greater Pottstown, PA
Visiting Angels' In Home Supportive Services Include a Safe and Steady Fall Prevention Program in Pottstown, Sanatoga, Chester Springs, Gilbertsville, and Surrounding Areas

The number one reason many seniors lose their independence is falls!

Aside from causing bodily harm, falls can also impact older adults emotionally and socially. In the end, falling can greatly change a senior's life and affect their quality of life. After experiencing a fall, elderly individuals often avoid situations they feel may lead them to fall again. Family functions, social invitations, and leaving the house in general all create anxiety and fear, leading seniors to avoid doing these activities altogether. Eventually this can cause feelings of social isolation, loneliness, sadness, depression, and anxiety.
Falls Are A Life-Changing Experience
Did you know that…
One in three adults fall every year?

One in five seniors endure serious injuries like concussions, fractures, and broken bones?

Of those who fall, they are very likely to fall again?

Each year, more than 800,000 people hospitalized are because of falls?

Recovery can take up to a year in a long-term care facility?

Of those who do go to a facility to recover, many cannot ever return home?
Falls Don't Just Happen!
When it comes to falls, there is usually one or more risk factors involved – something that increases the chance of an accident. Typically, risk factors are linked to a medical problem, physical condition, or the home environment. Dehydration, taking multiple medications, poor eyesight, arthritis, and a lack of grab bars in the bath tub are a few examples of risk factors. However, falls can be greatly reduced or prevented by identifying and addressing risk factors immediately, which is something we can help with at Visiting Angels of Pottstown with our in home supportive services.
At Visiting Angels of Pottstown, our in home supportive services are committed to keeping seniors safe in Pottstown, Sanatoga, Chester Springs, Gilbertsville, and the surrounding area. Contact us today to find out about how you can prevent falls from happening or to learn about our many in home supportive services.
Download Your Free Safe & Steady Fall Prevention Resource Guide today.
Serving Pottstown, Sanatoga, Chester Springs, Gilbertsville, Neiffer, and the Surrounding Area
Visiting Angels
POTTSTOWN, PA
2129 E High St
Pottstown, PA 19464
Phone: 610-906-1924