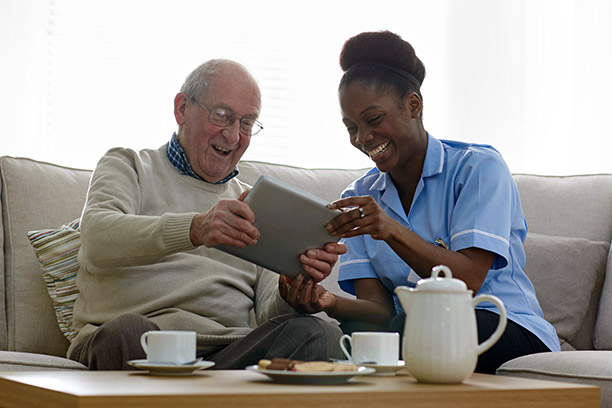 Expert Alzheimer's Care Services in Port St. Lucie, FL
The caregiver team at Visiting Angels offers specialized personal care for clients who are coping with Alzheimer's in Port St. Lucie, FL
If you have a senior loved one who is living with Alzheimer's disease or some other type of dementia, you can help your parent to maintain their independence and remain in the comfort of their own home with Visiting Angels. We are a nationally renowned provider of quality Alzheimer's care services with a large roster of qualified, highly skilled, compassionate caregivers.
Our Alzheimer's services are an integral part of Life Care Navigation™ - a comprehensive Visiting Angels service program. In addition to Alzheimer's care, the Life Care Navigation program includes specialized dementia care for individuals with other types of cognitive disorders.
How We Can Help
Once a loved one is diagnosed with Alzheimer's disease, family members have to make a number of difficult decisions and choose the best care solution for their aging parent or relative. Some working parents with children are not in the position to balance work, family, and the responsibility of providing adequate care for a loved one with a cognitive condition. Others may not live in the vicinity. Sometimes nursing homes or memory care facilities may seem like the only option. However, you do have a choice and Visiting Angels can help.
We enable those struggling with Alzheimer's to continue aging in place. Many studies have shown that familiar surroundings play a pivotal role in the well-being of Alzheimer's patients. A move to a nursing facility can accelerate the progression of the condition and trigger emotions like confusion, stress, agitation, and anxiety. Visiting Angels Alzheimer's care services are here to ensure senior clients with Alzheimer's can remain in the comfort and privacy of their home. For your family's peace of mind, we provide regular monitoring and routine check-ins. In addition to this, an after-hours line is also available to our clients.
Getting Started with Care
To help your family determine what level of care is right for your parent or relative, a Visiting Angels care director will visit your loved one's home to assess their care needs, outline a course of action, and answer any question you might have.
Our care plans are tailored in accordance with the specific needs, symptoms, personality, and routine of each client. What's more, your family will be able to Select Your Caregiver® to ensure your senior loved one is matched with a compatible member of our team.
If you would like to know more about Alzheimer's care, please call our Port St. Lucie, FL, office today and schedule a free-in home care assessment for your senior loved one.
Serving Port St. Lucie, Fort Pierce, Vero Beach and the Surrounding Area
Visiting Angels
PORT ST LUCIE, FL
10570 S Federal US Highway 1 #300
Port St Lucie, FL 34952
Phone: 772-408-9337