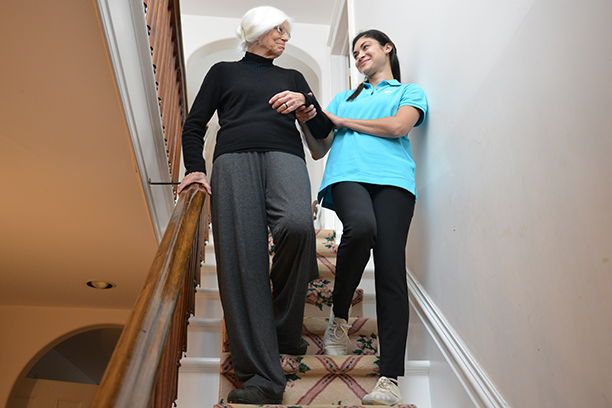 What is Elderly Home Care?
Understanding the elderly home care services we provide helps you make the best senior care solution
Elderly home care is any type of non-medical care provided for a senior in their residence. Home care is different from home health care, which assists seniors with medical needs. Home health care must be provided by a medical professional whereas home care services are provided by trained caregivers, Certified Nursing Assistants (CNAs) and Home Health Aides (HHA).
Unfortunately, knowing just the definition of elderly home care may not answer your questions about this kind of care. You may be wondering how a caregiver will know what assistance your loved one needs or how they can provide their services without jeopardizing your parent's dignity and safety. You may be worried that your loved one will not get along with their care provider or that their caregiver will not be respectful enough. These are all legitimate concerns.
How We Can Help
At Visiting Angels in Port St. Lucie, FL, we are experienced in providing home care for seniors, so we are more than equipped to answer all your questions and guide you throughout the whole process of choosing the best care solution for your loved one.
If you are still just in the planning stages, we can provide you with all the information about elderly home care that you need to make the right decision. We can discuss your loved one's care needs, work on developing an individualized care plan for them, and find the most compatible caregiver together.
However, if you do not have a lot of time to plan for care, we can still help. Due to our expertise and experience, we are able to accommodate urgent requests. We can also offer our assistance in hospitals, assisted living facilities or nursing homes. We can help seniors immediately after a hospital discharge and support them throughout the transitional phase or rehabilitation.
Here are some ways our elderly home care experts can assist you during your search for the best home care agency for your loved one:
Provide you with general information about our care programs
Help determine the best schedule for your loved one
Answer all your questions regarding the cost of our services
Schedule a free in-home consultation for your loved one to assess their needs
Develop a personalized care plan for your parent
Choose the right caregiver for your loved one
Coordinate meetings with your loved one's caregiver
Make changes to your loved one's care plan at any time
For more information about our home care services, please contact our office in Port St. Lucie, FL, today! We are more than happy to help you find the perfect care solution for your family.
Serving Port St. Lucie, Fort Pierce, Vero Beach and the Surrounding Area
Visiting Angels
PORT ST LUCIE, FL
10570 S Federal US Highway 1 #300
Port St Lucie, FL 34952
Phone: 772-408-9337