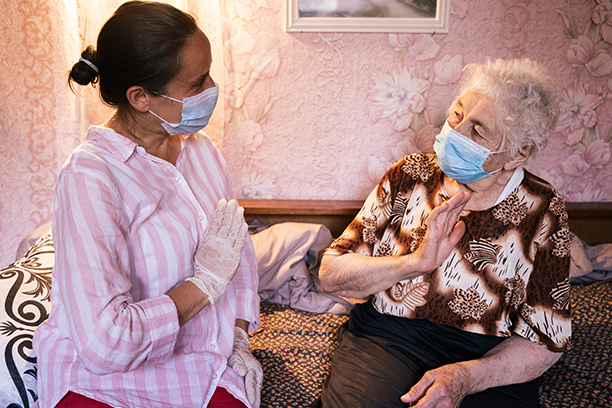 Compassionate Alzheimer's Care Services in the Punta Gorda Community
Compassionate Alzheimer's Care Services in the Punta Gorda Community
When a loved one is diagnosed with Alzheimer's, many questions begin to flood your mind. You wonder how long you have until your loved one begins to forget precious memories. It is very difficult for a family to cope with. When your loved one begins to lose their cognitive function, providing care can be very demanding physically and emotionally. When providing Alzheimer's care for your loved one becomes too demanding, let Visiting Angels Punta Gorda provide the assistance you're looking for.
Visiting Angels Punta Gorda is a senior home care provider who serves Punta Gorda and the surrounding community. At Visiting Angels, we understand how important it is to have your loved one at home. That is why we are dedicated to providing the non-medical Alzheimer's care services they need so they can stay comfortable at home and age in place. Our caregivers understand how difficult it is to have a loved one with Alzheimer's which is why they are dedicated to providing the compassionate care your loved one deserves.
Alzheimer's Care Services Personalized for Your Loved One
At Visiting Angels Punta Gorda, we understand everyone has their own set of unique needs and challenges. That is why we provide Alzheimer's care services that are personalized for your loved one. Our caregivers work with your family to provide the level of care that accommodates your loved one's lifestyle. Whether you are experiencing the early stages of Alzheimer's or a progressed case, our compassionate caregivers are professionally trained to ensure that your loved one will be safe and cared for.
A Higher Standard for Non-Medical Alzheimer's Care
Alzheimer's is a very serious disease that affects many families across the country. To provide the level of non-medical Alzheimer's care that is needed, Visiting Angels sought to create a higher standard and created a formal training program for our caregivers through a collaboration with the Alzheimer's Foundation of America. Through this training program, it ensures that our professional homecare providers will have the knowledge to understand how to handle any situation in the best way possible.
Living Assistance Services for Your Loved One
Visiting Angels Punta Gorda provides several living assistance services to help those with Alzheimer's and dementia. Our services are designed to help your loved one throughout the day and to keep them safe. Our services include:
Medication Reminders
Hygiene Care
Meal Planning & Preparation
Dressing Assistance
Transportation to Doctor's Appointments
Other Activities of Daily Living
Whether you need assistance a few hours a day or around the clock 24/7, our compassionate caregivers will be there whenever you need them.
Getting Started with Visiting Angels Punta Gorda
If you are ready, getting started with Visiting Angels Punta Gorda is easy. It begins with an initial meeting with one of our services coordinators. We will take the time to visit you and your loved one so we can fully understand your particular needs and the challenges you face. Once we've gathered the information we need, we will carefully develop a plan of care that will meet your needs.
From there, we will find a professional caregiver who will have the most compatibility to you and your family. At Visiting Angels Punta Gorda, we strive to provide you peace of mind so you will have the confidence knowing that your loved one receiving the compassionate Alzheimer's care they need.
If you are ready to get started or if you want to learn more about our Alzheimer's care services, contact us today.
Serving Punta Gorda, North Fort Myers, Boca Grande, Cape Coral, Sanibel, Captiva, Arcadia and Surrounding Areas
Visiting Angels PUNTA GORDA, FL
25166 Marion Ave #114
Punta Gorda, FL 33950
Phone: 941-347-8288
A Florida employee based Home Health Agency, FL Lic # 299994657