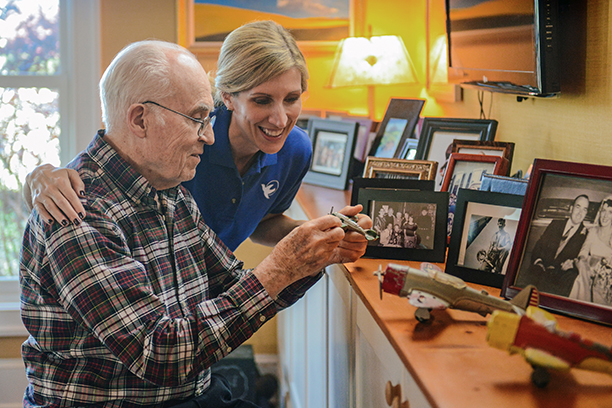 We're Proactive
Proactive Assisted Living Services in Punta Gorda, FL
We are proud to help families throughout the Punta Gorda, FL area by providing quality assisted living services for their loved ones. Across Charlotte, FL, Lee, FL, De Soto, FL, Hendry, FL and Sarasota County, we work closely with our clients to ensure our assisted living services meet their needs and exceed their expectations. Our proactive approach to care is part of what makes us the leading choice for assisted living services throughout the Punta Gorda, FL area.
For many families, the choice to find in home assisted living services comes with a certain amount of anxiety. You want your loved one to be cared for by the best professionals available and you worry that others won't provide the same quality of care that you would. This is a totally understandable feeling and we agree with you. It's scary to invite a stranger into your home to provide assisted living services.
At Visiting Angels Punta Gorda, FL, our assisted living services provide peace of mind to families like yours. Senior care coordinators can meet your loved one's needs. We only provide caregivers who will communicate openly, honestly and regularly with their clients. When you choose Visiting Angels Punta Gorda, FL for assisted living services, you won't have to worry about your loved one being forgotten or getting lost in the shuffle.
At some assisted living centers, clients are treated like a number. Not at Visiting Angels Punta Gorda, FL. Our clients become our friends and are treated like family. The caregivers we provide to our customers are encouraged to actively communicate with your family.
For a in-home senior care provider that will put your needs first, call Visiting Angels Punta Gorda, FL today.
Serving Punta Gorda, North Fort Myers, Boca Grande, Cape Coral, Sanibel, Captiva, Arcadia and Surrounding Areas
Visiting Angels
PUNTA GORDA, FL
25166 Marion Ave #114
Punta Gorda, FL 33950
Phone: 941-347-8288
A Florida employee based Home Health Agency, FL Lic # 299994657