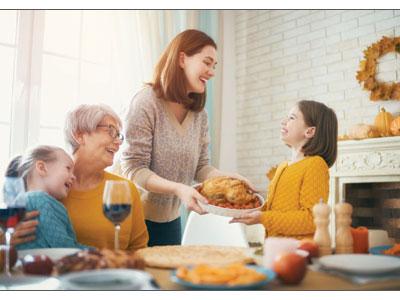 As the Holiday Rush Comes, Consider Home Care for Help
At this time of year, you no doubt have your hands full. Getting everything ready for the holidays, in addition to your regular responsibilities, can be nerve-racking. Add in caring for a senior loved one, and the stress levels can be off the charts, especially if you are their primary caregiver. If you are running out of free moments and getting filled with frustration, you may want to consider turning to an in-home caregiver for help, especially at this time of year. Having a compassionate home care worker who is dedicated to caring for your senior can be like having an extra pair of helping hands, which, especially around the holidays, can be invaluable.
How They Can Help
Home care workers are trained professionals whose job it is to ensure your senior loved ones are safe and well-cared for. They can do everything from helping your senior with daily hygiene and getting dressed to spotting tripping hazards throughout the home. If your senior is writing out Christmas cards and drops all of them on the floor, a home care worker can even be there to gather them all up so your senior loved one doesn't need to worry about bending over or tripping. After your senior prepares Christmas cookies, home care workers can do the dishes for your senior, so they don't have to stand on their wobbly legs for too long. Or they can reach higher items such as rarely used spices from cabinets for your senior. They can even help with the actual preparation of food.
Home care workers can even simply provide companionship for your senior loved one, which is especially valuable for seniors as they often feel lonely or depressed around the holidays.
They can sit with your senior and talk about their plans for the holidays or listen to their stories about past Christmases. If your senior loves telling the origin story for each of the ornaments on the tree, home caregivers can be engaged, listeners and talkers. They even can sit with your senior and watch holiday movies. Home care workers can anticipate your senior's needs and help with them. They also will follow a specific set of instructions and plans that you and your senior loved one work out ahead of time, so they can target the area they specifically need help with.
How Frequently They Can Help
It's natural to want to be with your senior as much as possible and to do all you can for them. You might be thinking you don't need a full-time caregiver. Home care workers do not need to be there all of the time. They can be there 24 hours a day, but they also can be present just in the morning when your senior loved one is getting ready or just at dinner to help them with meal prep or clean up. They can take care of the jobs that you find more frustrating when working with your senior and be there just for that part of the day. They even can just help out for a set period of time each week as you run errands. Many home care agencies, including Visiting Angels Punta Gorda, can work with you to come up with a schedule that works with your needs. Professional home care workers also can offer respite care, which means they come in to give the primary caregiver a break at certain times. For example, if you want to head out to your annual family holiday tea and your senior loved one won't be coming, they can be on hand for a couple of hours it takes you to enjoy the event. If you are exhausted from all of your holiday preparations, they can also offer respite care so you can nap and refresh for your time with your senior loved one.
Benefits
Having an in-home caregiver assist your senior loved one can make all of the difference in your level of stress this holiday season. In turn, it can help improve your relationship with your senior loved one and make the holidays happier. If you are spending less time helping them get ready each morning or carefully watching over them every second of the day, you can have more time to enjoy their company. If you have less to worry about, you can find more joy in each moment with your senior loved one. Freeing up some of your time around the holidays can give you time to focus on what is most important in your life and to enjoy this precious time with your senior loved one.
A Helping Hand
If you are looking for help with your senior loved one this holiday season and every season of the year, our professionals at Visiting Angels Punta Gorda are here to help. We provide a variety of home care services, including companion care, fall prevention, a safe and steady program and more.
Our expert team of caregivers serves clients in Punta Gorda, North Fort Myers, Boca Grande, Cape Coral, Sanibel, Captiva, Arcadia and surrounding areas. To learn more about our services, call us at 941-347-8288, or fill out an online form here.