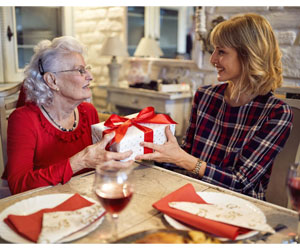 Celebrating the Season With Your Senior
The holidays are full of traditions. It is part of the reason we love the season so much. From driving through the neighborhoods on Christmas Eve to see the best decorations out there, to making cookies with Grandma, each family and person has their own favorites that mean the world to them. For many, it just isn't Christmas without these traditions. If you have an aging senior loved one in your family, you may be worrying that some of those traditions may be difficult to do this year. As our seniors age, it may seem impossible to keep those traditions alive in the same way, but it doesn't mean the spirit of those traditions won't be there. After all, the best tradition of all is being with the ones we love the most, so even if that means our activities have to change up a little bit this year, the people we spend them with can stay the same.
Try to Maintain The Ones Most Dear to You
While the days of jam packed Christmas fun with your senior loved one may be gone, you still can try to keep the best parts of the season. Is baking Christmas cookies a favorite tradition of yours and of grandmas? If so, do everything you can to make that happen. Maybe Grandma can no longer make 20 dozen gingerbread men in a day. But that doesn't mean she can't make a pan or two full with the grandkids. Maybe they will have to use the rolling pin this year, while grandma is the one sticking in the raisins on the gingerbread man's eyes. Even if you have to change it up a bit, you still can carry on the spirit behind the tradition of cookie baking, or whatever your favorite is.
Modifications Might Be Necessary
As our seniors age and slow down, they just can't do as much as they once did. That means some traditions will need to change. Don't make them feel bad if things need to be different. They are probably just as disappointed, or even more disappointed than you are about the situation. Instead, make the most of it. Make some modifications to your usual plans. Maybe usually you walk together through downtown, looking in the stores and marveling at the beautiful light displays, but this year your senior can't really walk around, so that outing won't be happening. Instead, maybe you'll want to drive through the downtown to see the lights, and get out instead at the Gardens Aglow at Peace River Botanical and Sculpture Gardens, where the route is wheelchair friendly, and they won't have to walk as much. If they can't leave the car at all, drive through the Festival of Lights at Fishermen's Village, where there are more than one million lights and figures on display. Keep the fun traditions alive, but just come up with some modifications.
Time for New Memories
If your senior is homebound, or just can't manage to do some of the things they used to, try to come up with new things to do. Christmas crafts are easy to do at home, and provide an opportunity for fun together, and a chance to talk. Bring them in some of the latest holiday coffee drinks from around town, such as at Unfiltered, and taste test them all. See what they like the best. Surprise them again with the same drink later in the season. Instead of heading out to see a live Christmas play, watch A Christmas Carol on tv together. Try new recipes, wrap gifts in a fun way or introduce them to country Christmas music. Get creative, and find a way to have fun and make new memories and traditions with your senior loved one.
Visiting Angels Can Help
If you are looking for help with your senior loved one this holiday season, or any season of the year, our professionals at Visiting Angels Punta Gorda are here to help. We provide a variety of home care services, including companion care, fall prevention, a safe and steady program, and more.
Our expert team of caregivers serves clients in Punta Gorda, North Fort Myers, Boca Granda, Cape Coral, Sanibel, Captiva, Arcadia, and surrounding areas. To learn more about our services, call us at 941-347-8288, or fill out an online form here.