Four Ways to Prevent a Fall at Home
Did you know that the average person's sense of balance begins to decline around the age of 25 years? As you continue to grow older, the likelihood of falling only increases. One out of four seniors over the age of 65 experience a fall each year. The Centers for Disease Control and Prevention reports that of those one out of four seniors that fall, less than half tell their doctor. Falls are a serious threat to the health of a senior. Many falls result in hip fractures, cuts, or serious head and brain injuries. The CDC reports that an older adult dies from a fall in the U.S. every 20 minutes. For the lucky few seniors that fall and are left unharmed, their experience leaves them feeling afraid, thus they avoid certain activities for fear of falling again.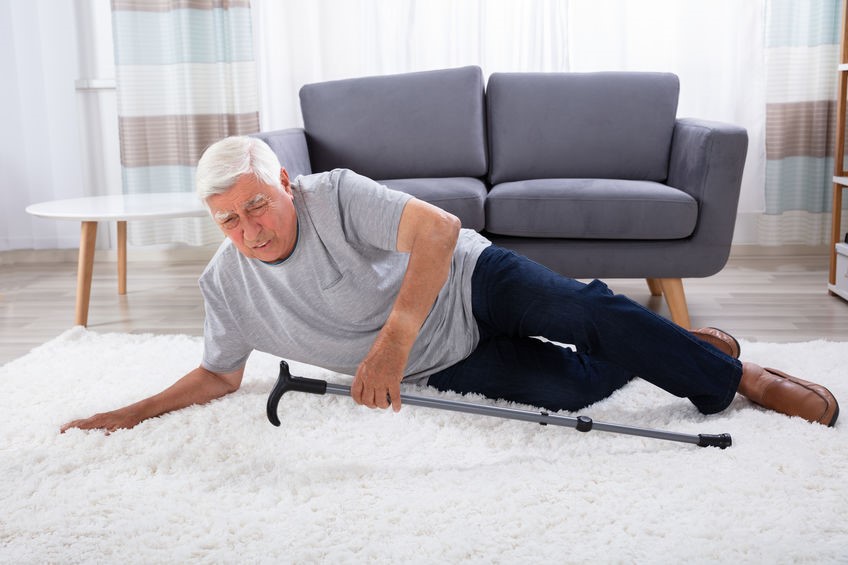 Falls are most likely to occur at the home of the senior. Most seniors practice caution when out and about in their community. However, when they're home, they have a false sense of security. They take greater risks, maybe they leave their walker in the other room or they try to carry too much around their home. Pets are another risk factor for falls, as their movements are unpredictable. However, falling is not an inevitable result of aging. Balance exercises, lifestyle adjustments, and fall prevention programs can help reduce a senior's risk for falling. Fall prevention starts with creating a safe living space. Here are four ways to help you or your aging loved one remain safe at home.
Remove Fall Hazards
The easiest and quickest way to prevent a fall at home is to remove potential fall hazards. Evaluate your loved one's space. Can they easily navigate from room to room? What's preventing them from doing so? Clutter? Extension cords? Throw rugs? Piles of laundry? Spend time decluttering and removing tripping hazards. Repair loose carpet or floorboards. Remove slippery throw rugs. Make sure that the furniture arrangement is appropriate for the use of a walker or cane. If there's a pet in the home, find a secure place for the pet to remain while your loved one moves about their home.
Light Up the Home
Inadequate and poor lighting also leads to an increased risk for falling. To make the home more suitable for seniors, install brighter light bulbs where needed, such as hallways and stairways. Add nightlights throughout the home, especially in bedrooms and bathrooms. Set certain lamps on timers so that rooms are adequately lighted at the appropriate time of day. Consider installing smart bulbs or smart plugs so that you aging loved one can light up the room with the sound of their voice.
Plan Your Day
If you have stairs in the home, help prevent a fall from multiple trips up and down the stairs by simply thinking through your day and planning ahead. Store most of your everyday items on the main level of the floor, so you don't have to walk up and down to retrieve what you use mostly on the first floor. Keep a change of clothes or extra sweater to layer on the main level of your home. Use a small bag or backpack to carry items from level to level, so that your hands are free to take hold of railings. Purchase additional devices, such as a walker, cane, or reading glasses, so that you have one on each level of your home.
Put on Shoes
Finally, choose to wear shoes instead of socks around your home. While socks may be more comfortable, socks pose a slipping risk. Shoes provide stability and grip. If you prefer a shoe-free home, purchase a pair of shoes that you only wear indoors. Make sure the shoes have a heel and are secure around your feet. If you just need to wear socks around the home, find socks that are non-slip with grips on the soles of the feet.
With a little critical thinking, you can reduce your risk for a fall at home. Fall prevention is often an overlooked issue and most falls can be prevented. That is why Visiting Angels Punta Gorda is committed to educating seniors and their families about ways to reduce falls. Download our free Fall Prevention brochure for more tips on how you can prevent a fall. If you or your aging loved one has recently experienced a fall, know that we are here to help. Our compassionate caregivers can step in and assist you as you get back on your feet. To learn more about our senior home care services, please contact us today by calling 941-347-8288 Punta Gorda or 239-226-1620 Cape Coral.