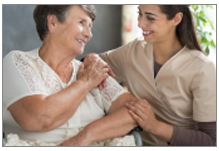 How Home Care is Reducing Re-Hospitalization and Why It's Important
Statistics show that the older adult population accounts for the majority of hospital admissions, compared to any other age population group. Older adults are twice as likely than middle-aged adults to require hospitalization. They also are more likely to require support after a hospital discharge. Support after a hospital stay is critical among the older adult population. Without proper care and support, older adults increase their risk for hospital readmission. Studies show that Medicare patients account for the majority of hospital readmissions. One in five Medicare patients are readmitted to the hospital within the first 30 days of discharge.
As mentioned above, older adults with strong support are less likely to require readmission to the hospital once they're home. Home care provided by Visiting Angels Punta Gorda is helping to reduce rehospitalizations among the senior population in the community. Here are a few ways our home care services can help reduce hospital readmissions, and why it's important.
Why It's Important to Prevent Unnecessary Hospital Readmissions
Hospital readmissions are costly and dangerous for older adults. The longer an older adult stays in the hospital, the more susceptible they become to infection, falls, changes in mental status, and physical decline. The hospital setting can be very disorienting for some older adults. Although they are followed by a doctor, the doctor typically focuses solely on treating the initial diagnosis. Little oversight is given to the whole person. Hospitals often confine patients to their beds or rooms. For an older adult, being sedentary for too long can result in loss of muscle mass, strength, and endurance. When they are discharged home, older adults can become fatigued more quickly due to the physical decline they experienced while in the hospital. Hospital patients are also subjected to interrupted sleep and unappetizing food. Lack of sleep and poor nutrition can affect an older adult's mental, physical, and emotional health.
How Home Care Helps Reduce Hospital Readmissions
Most hospital readmissions can be completely avoided if older adults follow their doctor's discharge plan. Yet, the majority of older adults aren't always the most compliant because they don't have a strong
support network at home. They don't want to ask a family member to help with meals or to assist them in the shower. Instead, they try to do too much for themselves, when they aren't fully recovered. Utilizing senior home care services, such as Visiting Angels, expands an older adult's support network. Professional caregivers can assist with personal care tasks and monitor for signs of fatigue. They can gently remind their clients about their post-hospital instructions and encourage them to take it easy.
Another way home care helps reduce hospital readmissions is it acts as a second set of eyes. The first 30 days after a hospital discharge are the most crucial. Caregivers receive specific training and have the experience to recognize changes in the health of their clients. Any sudden change in physical or mental health could indicate a post-hospital complication. If an older adult doesn't have family checking in with them frequently during those first 30 days, this change of status could be easily missed. What could have been prevented by someone keeping a close eye, could result in a readmission to the hospital.
Finally, home care helps older adults reacclimate to their own home. Caregivers can initially prepare soups or other comfort foods to encourage nutrition. They can also take care of laundry or basic household tasks while their client recuperates. As their client builds endurance, caregivers can work alongside their client to prepare meals or fold laundry, so that their client has the confidence to do these tasks independently.
Whether you've recently had a hospital stay or have a hospital stay in your future, Visiting Angels Punta Gorda is here to help older adults prevent an unnecessary hospital readmission. Care can be arranged prior to a planned surgery so that your caregiver can become familiar with your discharge plans. We can also meet with family in the event of an unplanned hospitalization so that your transition home is as smooth as possible. As you regain strength and endurance, we can adapt your care plan to meet your changing needs. Once you are back to normal, you can continue with care at a reduced frequency, or discontinue altogether. To learn more, please contact us today by calling 941-347-8288 Charlotte County or 239-226-1620 Lee County.