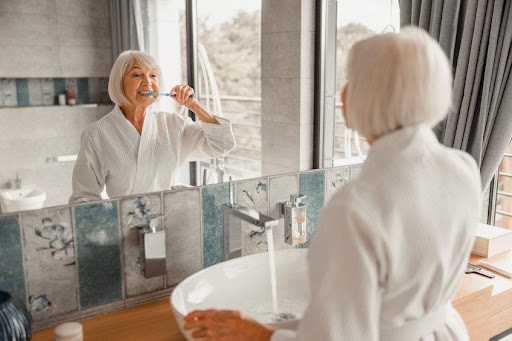 How Often Seniors Should Floss and Other Dental Hygiene Reminders
According to the Centers for Disease Control and Prevention, older adults face many oral health problems. Loss of teeth, tooth decay, periodontal disease, discoloration, and dry mouth are just some of the oral health concerns older adults may face. These conditions can result in extensive tooth decay and gum disease, meaning dentures may enter the picture if left untreated.
Among the many reasons for oral health decline, older adults typically do not have dental insurance because Medicare does not cover routine care. However, dental disease is preventable. With proper dental hygiene, older adults have less than a 30 percent chance of needing dentures or dental implants as they age.
October is National Dental Hygiene Month. Here are a few dental hygiene reminders for older adults to help them maintain good oral health.
Brush at Least Twice a Day
The American Dental Association recommends that everyone brush their teeth twice a day, including older adults. They also recommend using fluoride toothpaste, as tooth decay can develop at any age. One of the times you brush should be just before bed. It's important to brush away food particles and dental plaque so that they don't attack your tooth enamel while you sleep. Older adults who have a sweet tooth should brush more frequently. Sugar can weaken tooth enamel. Brush gently, moving around all quadrants of your mouth. There's none to apply a lot of pressure to clean your teeth.
Floss at Least Once a Day
The American Dental Association recommends that everyone floss between their teeth once a day. Flossing helps remove food and plaque found between teeth. These small crevices are impossible to reach with a toothbrush alone. Some older adults struggle to floss with traditional string floss. If your fine motor skills limit your ability to floss, consider using one-handed dental flossers. You can also ask your dentist about the benefits of using a water flosser.
Combat Dry Mouth
One of the more significant concerns older adults need to be aware of is dry mouth. Dry mouth is often an adverse side effect of certain medications. It can also occur due to older age. Dry mouth is an uncomfortable condition that can contribute to tooth decay. Salvia helps neutralize acids produced by bacteria. When you don't produce enough saliva, those acids have more room to attack tooth enamel. Combat dry mouth by drinking water frequently throughout the day. This will help keep your mouth moistened.
Schedule Routine Visits with Your Dentist
Many older adults neglect routine dental visits because Medicare does not cover them. Other reasons why older adults avoid the dentist include memory impairment, limited mobility, or they have no way to get there. Yet, routine dental visits help prevent more significant oral health problems down the road. You may need to pay out-of-pocket for a routine appointment. However, the cost of a routine visit is often less than the cost to treat a significant dental problem. Talk with your dentist about how frequently you should schedule visits. Be honest about the costs if that's a concern and ask what they can do to help minimize your bill.

If your oral health routine could use a brush-up, Visiting Angels Punta Gorda is here for you. We can provide you with a caregiver who can assist you with maintaining your oral health, as well as a variety of other personal care tasks. Our elderly home care services help families throughout the Punta Gorda area find dedicated care. If you prefer to remain in charge of your schedule and remain in your familiar home, we are the home care company for you. To learn more, please get in touch with us today by calling 941-347-8288 Charlotte County or 239-226-1620 Lee County.