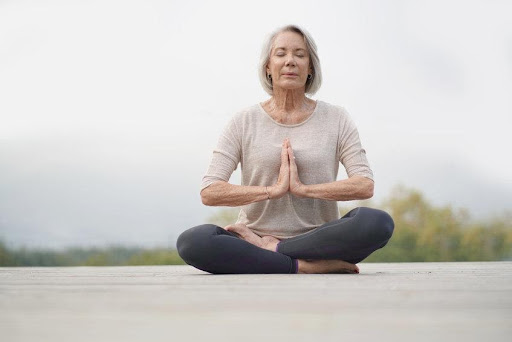 The Benefits of Yoga for Older Adults
From the first sun valuation sequence to the final pose, Savasana, the systematic practice of yoga offers participants endless benefits. Older adults, too, can reap the many benefits of yoga, regardless of their level of yoga expertise. In addition to physical exercise, regular yoga practicers receive mental health benefits as well.
September is National Yoga Month. It's the perfect month for older adults to learn a few poses to boost their physical and mental health. Here are five benefits of yoga for older adults, sure to make you want to unroll your mat and give yoga a try today.
Improves Flexibility
The purpose of yoga is to increase flexibility, so, naturally, the first benefit of yoga is improved flexibility. Flexibility ensures that older adults have the range of motion they need to navigate their daily lives. Many older adults suffer from stiff joints because the lubricating fluid inside their joints decreases, and their cartilage grows thinner. Yoga allows older adults to stretch muscles and improve their range of motion, helping them to remain independent.
Builds Better Balance
Yoga also helps older adults build better balance. Many yoga poses flow from one movement to the next, giving participants opportunities to exercise their balance as they master transitions. Balance is extremely important in older age; especially as older adults are more at risk for falls. As older adults regularly participate in yoga, they challenge their balance and improve coordination.
Helps With Sleep
Not only does it enhance balance and flexibility, but it can also help seniors improve their sleep while alleviating aches and pains. Many older adults have insomnia due to chronic health conditions or changes in their circadian rhythms. Fortunately, research has shown that a consistent bedtime yoga practice can help with sleep. A regular yoga practice can help older adults fall asleep quicker, stay asleep longer at night, and fall back to sleep after waking up in the middle of the night.
Builds Muscle Tone & Strength
Yoga is a strength-based exercise that utilizes the participant's bodyweight to build strength and increase muscle tone. It's natural for older adults to lose muscle mass with age. In fact, after age 30, most adults lose three to five percent per decade. Unlike weight training exercises that work muscle groups in isolation, yoga is a gentle form of strength training that incorporates the entire body.
Reduces Stress
Yoga combines many stress-reducing techniques, including exercise, controlled breathing, relaxation, and meditation. It has long been known as a practice to help reduce stress. It can help older adults better manage stress as they discipline their minds to stay in the present moment. It also helps older adults suffering from anxiety. The yoga breath promotes deeper breathing, which supplies more oxygen to the heart, lungs, and brain. Deep breathing triggers the body's relaxation response, reducing anxiety or stress almost immediately.
If you're an older adult who needs help maintaining your independence at home, Visiting Angels Punta Gorda is here to lend a hand. We offer a variety of services to help older adults remain safe and independent in the comfort of their own homes. We realize how important it is for seniors to remain at home during their golden years. Through our compassionate in-home senior care services, we help older adults with their daily needs. Our flexible approach to home care allows our clients to remain in control of their schedules. To learn more about us, please get in touch with us today by calling 941-347-8288 Charlotte County or 239-226-1620 Lee County.