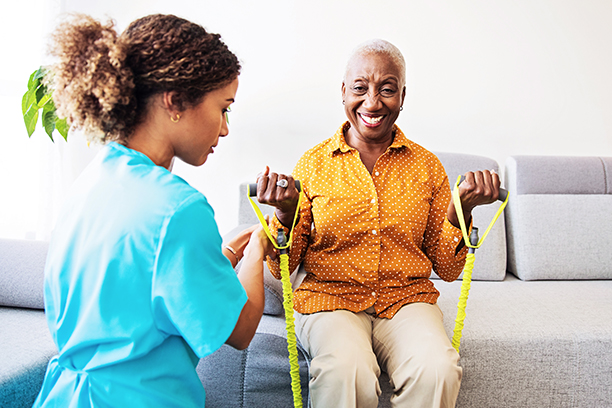 Respite Care in Puyallup
While many family caregivers take great pride in being able to help their loved ones, this doesn't mean they don't need help themselves every once in a while. Family caregivers can encounter stress and feel overwhelmed, especially if they don't have the opportunity to take time away from their duties. With our respite care services in Puyallup, we're aiming to make it possible for family caregivers to access the support they need to be the best caregivers they can be.
What is Respite Care?
At Visiting Angels® Puyallup, we define respite care as short-term or temporary care that makes it possible for primary caregivers to take time off from their responsibilities. This time can be incredibly beneficial to their personal well-being and their ability to maintain a healthy, balanced relationship with their loved one. With this type of care available, the caregiver can have the peace of mind they need to avoid constantly worrying about their loved one's situation.
How Respite Care Helps Seniors in Puyallup
Rather than taking a one-size-fits-all route to delivering care, we maintain a focus on providing care that is personalized to each individual family and their unique needs and scheduling requests. Some family caregivers simply need a few hours off here and there to run errands, while others want to have the ability to take vacations while knowing their loved one is in safe hands.
Our professional care providers can help out your loved one in a number of ways and shoulder the vast majority of your duties as a caregiver. These could include:
Assisting with homemaking and housekeeping activities
Providing mobility support, walking assistance, and help with personal care
Conversing with seniors and offering companionship
Preparing healthy meals and doing post-meal clean-up
Accompanying seniors to appointments and providing reminders
Getting Started with Respite Care
Waiting to reach out for help until you feel burned out by your role as a caregiver can be dangerous to your mental, physical, and emotional health and can also affect the quality of care you're giving your loved one. We encourage you to learn more about getting started with respite care by contacting our office today.
Call for a free respite care consultation in Puyallup, Algona, Bonney Lake, Federal Way, Auburn, Lake Tapps, Pacific, South Hill, Sumner, or a nearby community. Relief from your caregiving duties is possible with the help of our care professionals at Visiting Angels Puyallup!
Serving Southern King and Northeast Pierce Counties, WA
Visiting Angels
PUYALLUP, WA
12511 Meridian St E #102
Puyallup, WA 98373
Phone: 253-841-8841
Fax: 253-845-8845