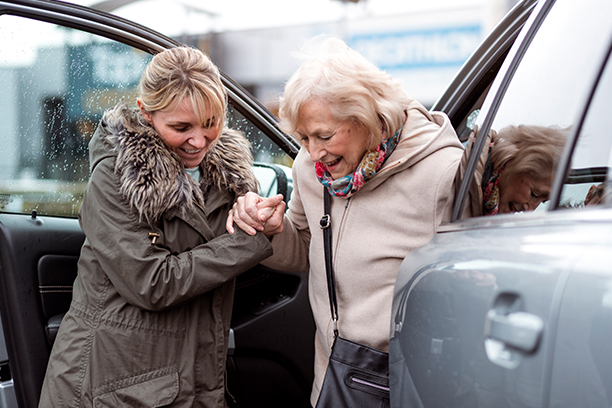 Home Care in Corona
Finding the best home care in Corona for your loved one starts with finding the right home care provider. Visiting Angels® in Riverside County is a locally owned company that offers personalized support for every family. We know your situation is unique, so we believe your home care should be too.
Our care team is dedicated to a simple mission — to help local seniors live and thrive where they choose. Our caregivers are trusted by families throughout:
Corona
Jurupa Valley
and throughout Riverside County
Families trust us because we provide compassionate, reliable home care every day. Our care professionals were all hired because of their abilities, their warmth, and their clear commitment to this work. They're bonded, insured, and have all passed a thorough background check.
About Our Home Care in Corona
Many routine tasks you've never had to think about can become difficult if not dangerous with age. At Visiting Angels in Riverside County, we offer a wide range of home care services in Corona to address these new challenges. Though we'll develop a custom care plan and schedule based on your situation, the help we can provide includes:
Medication reminders
Transportation
Companionship
Meal planning and preparation
Light housekeeping
Respite care
Bathing, dressing, and toileting aid
Walking and/or transferring support
We know your care needs never rest, so our home care services are available at any time, including evenings, overnight, and on weekends and holidays.
How Our Home Care Process Begins
What tasks does your loved one currently struggle with? What could you use help with as a family caregiver? Whatever your loved one's condition or your family's budget, we'll find a way to address your needs and improve your lives. To do that, our care professionals will lead you through the following process:
First contact - Call (951) 727-4357 to find out more about our services and rates, discuss your care scenario, and let us know you're interested in home care.
No-cost consultation - We'll meet with your relative and anyone else involved in their care to get a clear sense of the situation, including your loved one's physical and cognitive care needs, their preferences, and their usual routine. We'll also discuss your family's involvement and address any questions you have about our care.
Plan development - Next, with your input, we'll take what we've learned to draw up a care plan and schedule that will provide the greatest benefit for your loved one and your family as a whole.
Caregiver selection - After meeting with your family and building a plan, we'll recommend a care professional who we believe would be an ideal fit. Your family will always have final approval of our choice of caregiver.
Personal Care in Corona
Our caregivers can be there to help your loved one with all the basic activities they can't manage anymore. Our personal care can include the following:
Dressing help
Bathing and toileting support
Errand-running and grocery shopping
Medication prompts
Planning out and making healthy meals
Tidying and doing certain chores like laundry
Arranging rides
Respite Care in Corona
Avoid burnout and give yourself the time you need to rest and recover. With respite care, our caregivers can take over your duties on a temporary basis, so you can tend to your own needs guilt-free.
Dementia and Alzheimer's Care in Corona
If your loved one has been diagnosed with Alzheimer's or another form of dementia, you may have concerns about their day-to-day safety and well-being at home. Our home care professionals are familiar with the symptoms and risks posed by cognitive decline. They can be there to make sure your loved one is eating well, taking their medications as prescribed, going to their appointments, and staying mentally active.
Companion Care and Social Care in Corona
Older adults are more prone to social isolation as their friends and family move away, their communities change, and age-related changes make it harder to leave home. Our caregivers can provide warm, uplifting companionship for seniors, both at home and on outings that suit their interests. In addition, our team can help tech-wary older adults get more comfortable with video chat and other connective tools.
Palliative and End of Life Care in Corona
If your loved one is battling a serious health condition or is nearing the end of life transition, we can be there to support your family physically and emotionally.
Our palliative care is available to all clients with a major health issue who seek relief from the physical discomfort of their condition and its treatments. This service also includes emotional, social, and spiritual support to help your family focus on better, brighter things.
Our end of life care is an option for clients who are approaching the end of life transition whether they have a chronic illness or not. We can create a calming environment, help your loved one feel as comfortable as possible, and give your family the space to savor these final moments.
Safe & Steady Fall Prevention
Falls account for more serious injuries among seniors than any other cause, so our home care professionals take fall prevention seriously. We can check your loved one's home for potential fall hazards, determine their unique personal risk, and provide physical support whenever needed.
Ready-Set-Go Home
For many seniors, the stress of any hospital stay is compounded by the risk of re-admittance. The first month after discharge is especially risky, but our care professional can help.
Our home care options include in-hospital and in-home assistance during and after a hospital stay. We can consult your loved one's physicians, clarify any instructions, assist your loved one when they get home, and make sure they receive follow-up care.
Get Started with Home Care in Corona Today
At Visiting Angels in Riverside County, we're here for you. To find out more about our home care in Corona and set up a consultation, call (951) 727-4357 today.
Serving Riverside, Corona, CA and Surrounding Communities
Visiting Angels
RIVERSIDE COUNTY, CA
8175 Limonite Ave #A-2 & A-3
Riverside, CA 92509
Phone: 951-727-4357
Fax: 951-727-4301
HCO #334700037