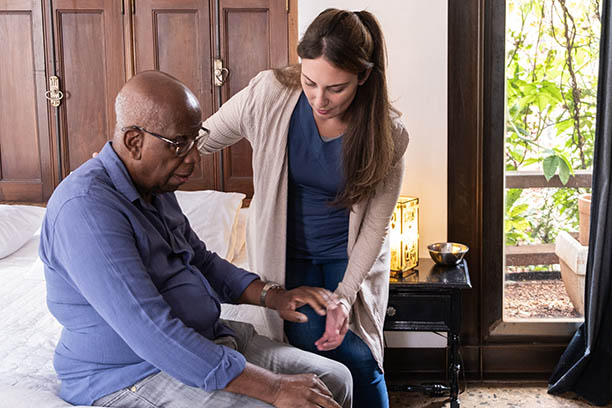 Palliative Care Services by Visiting Angels of Riverside County
When it comes to caring for someone you love with a chronic illness, you know it's not just about treating symptoms—it's about enhancing their overall quality of life. That's what palliative care by Visiting Angels of Riverside County is all about. This form of specialized care focuses on providing relief from the physical, emotional, and spiritual challenges that come with chronic conditions.
"Visiting Angels has been a lifesaver for us during our dad's illness. The caregivers are compassionate and treat him like he's their own family. Highly recommend!"
Understanding Palliative Care
Contrary to popular belief, palliative care isn't just another word for end-of-life or hospice care. While hospice services are for those with a limited life expectancy, palliative care serves anyone diagnosed with a chronic illness at any stage of life. Whether you're going through treatments or living with conditions like dementia, COPD, or heart failure, palliative care adds a layer of support to your ongoing care.
What Sets Palliative Care by Visiting Angels Apart
Our Certified Palliative Care program adopts a holistic approach to your loved one's needs:
Physical Comfort:
Managing pain and providing relief from discomfort are the first steps to making your loved one feel better. Our caregivers can collaborate with other professionals in your healthcare team, including doctors, nurses, and therapists, to provide a well-rounded approach to care. In addition to providing dignified private duty care for help with toileting, bathing, and dressing, we can help with medication management, light housekeeping, transportation to and from doctor appointments, and more.
Emotional Support:
Chronic illness often brings about a roller coaster of emotions. Our caregivers enjoy working with seniors and share our agency's passion for providing emotional comfort and stability to support your loved one and help them cope with the ups and downs that chronic illnesses can bring.
Social Interaction:
From meaningful conversations to comfortable silence, we make sure your loved one always feels safe and supported and never feels alone.
Spiritual Reassurance:
Sometimes, a listening ear or a comforting word can provide the inner peace that your family seeks during these difficult times.
Though Visiting Angels doesn't provide medical services, our caregivers can assist at home or even at assisted living facilities or nursing homes. And, if your elderly loved one is admitted to the hospital, our "Ready-Set-Go Home" program can help provide the transitional care needed during and after their hospital stay.
One of the biggest benefits of choosing Visiting Angels for palliative care is the peace of mind it offers you and your family. Our caregivers at home manage the day-to-day needs of your loved one, allowing you to be a family member first and a caregiver second. With a Visiting Angels caregiver to help, you can enjoy precious moments with your loved ones and get a little relief so you can tend to your own needs.
FAQs About Palliative Care
Is Palliative Care Just for End-of-Life?
No, palliative care serves those with chronic illnesses at any stage of their life.
Are Visiting Angels Caregivers Specially Trained?
Yes, through our unique Palliative Care Certification Program, our caregivers are trained to offer care that makes a real difference.
How Long Can Services Be Used?
There is no time limit; you can start or stop services as needed.
How Can I Get Started?
If you are ready to learn more about our palliative care program and how it can make life better for your loved one, contact our Riverside County office today to schedule a free in-home consultation. Together, we'll create a personalized plan tailored to your loved one's specific needs.
Serving Riverside, Corona, CA and Surrounding Communities
Visiting Angels
RIVERSIDE COUNTY, CA
8175 Limonite Ave #A-2 & A-3
Riverside, CA 92509
Phone: 951-727-4357
Fax: 951-727-4301
HCO #334700037