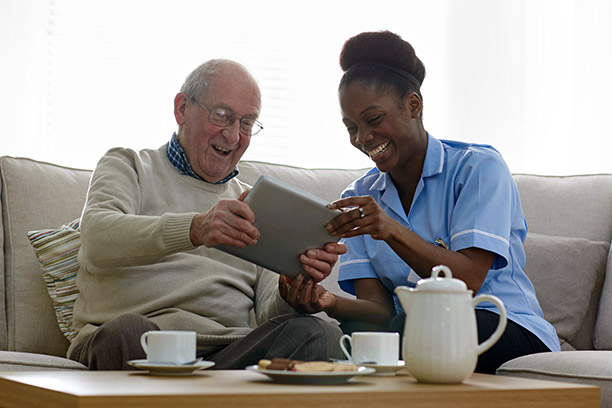 Alzheimer's Services
Dementia and Alzheimers Care in Roanoke VA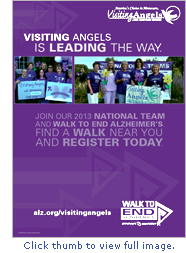 At Visiting Angels Roanoke VA, we proudly provide respectful and empathetic dementia and Alzheimer's care. We understand that this can be a difficult time for you and your family. If your loved one is suffering from a memory disorder, living at home and in familiar surroundings can be helpful to their mental wellness. Being able to eat breakfast in their own kitchen table or sleep in their own bed can be a great source of comfort for Alzheimer's and dementia sufferers
At Visiting Angels Roanoke VA, we provide dedicated dementia and Alzheimers care that allows your loved one to live in the home they've worked so hard to build. If your family member lives in Roanoke County – including Roanoke City, Salem, and Roanoke, VA – dementia and Alzheimers care is available for them from Visiting Angels.
Specialized Dementia and Alzheimer's Care
Although many seniors who deal with Alzheimer's or dementia may need similar kinds of support, it's a simple fact that every person is unique. At Visiting Angels Roanoke VA, we will map out a customized care plan that's specific to your loved one. With your advice, as well as the advice of their health care specialists, we'll incorporate full-time, part-time, or round-the-clock support. We can help ease the confusion of their daily lives by monitoring their medication dosages, planning and preparing meals, and helping them to remember doctor's appointments as well as family visits. As your loved one's illness progresses, we can modify their care as required. With dementia and Alzheimer's care from Visiting Angels Roanoke VA, you'll always know that your loved one is getting the support they need.
Dementia and Alzheimers Care You Can Trust
We understand that it can be daunting to let a new person into your home. Visiting Angels Roanoke VA takes every step we can to ensure you feel comfortable, secure, and happy with your loved one's caregiver. Before a caregiver candidate can even be considered for Visiting Angels Roanoke CA, they must undergo comprehensive background and reference checks as well as a diligent interview process. We hand-select senior care specialists who are committed to making a positive impact, who are community-minded, and who can provide proactive, supportive dementia and Alzheimer's care. With your input, we can match your loved one with a caregiver who's ideally suited to them. It's our aim to always provide consistent and excellent dementia and Alzheimer's care to Roanoke VA.
Help your loved one live at home with dignity and joy. Contact Visiting Angels Roanoke VA at (540) 904-7104 to learn about our dementia and Alzheimers care in Roanoke County, Salem, and Roanoke City.
Serving Roanoke County, Roanoke City, Salem, VA and the Surrounding Areas
Visiting Angels
ROANOKE, VA
3959 Electric Rd #204
Roanoke, VA 24018
Phone: (540) 904-7104