Are you a positive person who loves helping others? Join our award winning team at Visiting Angels Roanoke by applying for one of our caregiver jobs today!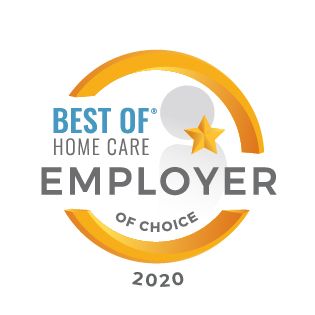 At Visiting Angels Roanoke , we realize that our caregivers are the ones that make the lives of our clients so special.
Your happiness and satisfaction are our first priority, so we hired an outside company called Home Care Pulse to collect honest feedback anonymously from our caregivers about their experience working with us.
Based on this feedback we received their 2020 Leader in Excellence Awards for exceptional caregiver and client satisfaction. This award is very special to us because it reflects our level of commitment to our clients and caregivers with the respect, honor, and appreciation that they deserve.
To start a rewarding career with an honest and reliable home care agency, please apply to our current caregiver jobs below!
Benefits of Being a Visiting Angel
Here's why our caregivers love being part of the Visiting Angels Roanoke family:
We can work with you to create a flexible schedule that fits around the rest of your life

We are deeply committed to making sure all of our caregivers are treated with the same level of respect and integrity that we give our clients

Love your work! Our caregivers are some of the happiest in the country – in fact, 96 percent of our caregivers would recommend us to their friends for future employment

Love what you do! Over 95 percent of our caregivers would recommend us to their friends for future employment

Create fulfilling and long-lasting relationships with your clients

We provide paid training and opportunities for our caregivers to continue their education and grow professionally
If you are a positive, reliable and caring individual who enjoys helping others and takes responsibility very seriously we encourage you to apply for Visiting Angels Rockford for one of our caregiver jobs.
You will find it extremely rewarding and personally fulfilling to help others in the time of their greatest need. If you are a positive, reliable and caring person with commitment responsibility you may be a great fit for one of our caregiver jobs!
Visiting Angels Roanoke, Love What You Do
One of the most important tasks' of being a caregiver is simply helping our clients enjoy their lives more fully! We believe working one-on-one gives caregivers the opportunity to form closer relationships with clients and provide them the best care possible.
Our caregivers lend a helping hand wherever is needed. Many seniors struggle with the day-to-day upkeep of running a house, whether it be doing laundry, grocery shopping or even meal prep. We pride ourselves on being able to help our clients keep living in the comfort of their own home
Without having to worry about these daily chores that burden many seniors our clients can spend more time enjoying life again and forming unique one-on-one relationships with our caregivers.
Click below to apply to one of our caregiver jobs today!