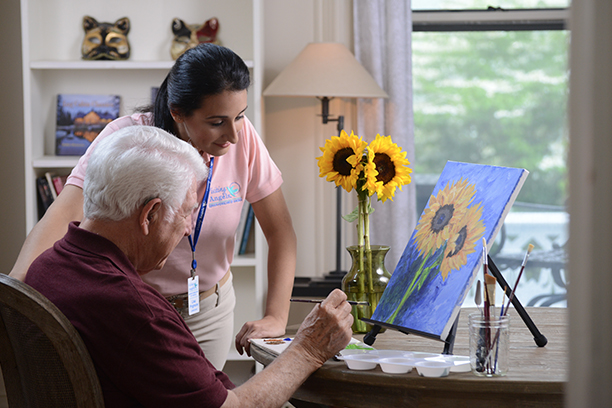 Affordable In-Home Care Services from Visiting Angels of Roswell
When your loved one is in need of senior care at home look no further than in-home care from Visiting Angels® of Roswell. Your loved one deserves compassionate assistance at a reasonable rate and we are happy to provide it. As experienced professionals in senior care, we understand the costs of caring for an elderly loved one can add up quickly. This is why we offer services at a fair hourly rate, allowing you to choose the amount of care which best suits your loved one. At Visiting Angels Roswell, we genuinely enjoy providing in-home care to seniors and want to make our services as accessible as possible for those who need us.
In-Home Care Benefits Vs. Assisted Living
By choosing in-home care services from Visiting Angels Roswell, you are giving your loved one access to the numerous benefits associated with one-on-one care. Some of these include:
The ability to design and manage your own schedule
Services built around your loved one instead of the masses
Ability to maintain your loved one's current, comforting routines
Remaining at home among familiar surroundings
You can discover countless other benefits when you choose Visiting Angels Roswell to assist your loved one.
Budget Friendly In-Home Care in Roswell
In-home care from Visiting Angels of Roswell is budget friendly assistance you can tailor to fit your loved one's specific needs. Are you looking for a caregiver to help out for a few hours a day while you are at work? How about a provider to keep your loved one safe overnight? Maybe you want a professional to check in with your loved one on a regular basis and help with activities around the home. All of this is possible with Visiting Angels Roswell. Simply choose the amount of care that's right for you and your budget.
Getting Started with Home Care
Once you have decided to go with in-home care from Visiting Angels of Roswell, what happens next? We will help you through the process every step of the way. We will come to your loved one's home for a free consultation to discuss what types of care you need, scheduling, frequency of visits, and how to make care fit within your loved one's budget. We can even check to see if your long term care or insurance will be able to offset your cost.
Call Visiting Angels of Roswell now to learn more about our in-home care program.
Serving Roswell and the Surrounding Areas
Visiting Angels
ROSWELL, GA
599 West Crossville Rd
Roswell, GA 30075
Phone: 770-573-7817