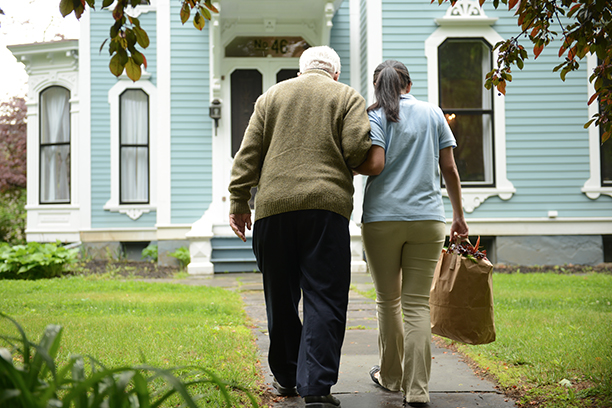 Santa Clarita and Companion Care Services
Companion Care for Santa Clarita Seniors
As fulfilling and rewarding as aging may appear, it can also bring many mental and physical challenges. As our loved ones continue to age, their changing bodies will make it more difficult to take care of certain tasks. What's more, they may also face the reality that their loved ones may pass before them.
Companion care services can truly make a difference as things get more difficult for seniors. A professional and compassionate caregiver can provide the emotional and mental comfort that a senior might need. Fortunately, we at Visiting Angels Santa Clarita, are here to be of service with our in-home companion care services.
At Visiting Angels, we understand how important companionship is for seniors. Many seniors struggle with isolation which can lead to a decline in both their emotional and physical health. Thus, our caregivers are dedicated to providing high-quality living assistance services, while also providing caring company for your loved one.
Personalized Companion Care for Residents of Santa Clarita
Furthermore, we understand that every person ages differently. That is why we provide carefully customized companion care plans for our clients in Santa Clarita. With their training, experience, and care plans in hand, our professional caregivers are prepared to make the necessary accommodations to help your loved one age in place.
Not only do seniors have different needs, but we also know that seniors will not always need assistance with the same things. The needs of seniors are always changing, and our care plans will continue to change to accommodate each of our client's most current needs.
Companion Care Services in California
Visiting Angels Santa Clarita care providers are dedicated to providing the compassionate care you're looking for. We strive to provide you and your family peace of mind knowing that your aging loved one is in good hands.
Living Assistance Services in Santa Clarita
We, at Visiting Angels, provide several living assistance services that are included with our companion care services. These services are designed to help your senior loved one maintain their independence while receiving a helping hand when they need it. The following are examples of what we provide assistance with:
Medication Reminders
Hygiene Care
Dressing Assistance
Assistance with Errands
Light Housekeeping
Meal Planning & Preparation
Other Activities of Daily Living
How Do I Get Started with Visiting Angels?
If you are wondering how, you can get started with Visiting Angels Santa Clarita, here is the answer. You just need to reach out to us to schedule our first meeting together. During our first consultation, our service coordinators will get to know all about your loved one's needs. We also spend time getting to know you and your loved one so that we have a complete understanding of the care we need to provide.
After the first meeting, we will carefully create a customized care plan for your loved one's needs. We will also match your senior loved one with a compatible caregiver who will be more than capable of meeting your loved one's needs.
If you are ready to schedule a consultation meeting with us, or if you simply have a few questions you would like to ask us, feel free to contact us today.
Serving Santa Clarita and the Antelope Valley, CA
Visiting Angels
SANTA CLARITA, CA
25115 Avenue Stanford #A101
Valencia, CA 91355
Phone: 661-263-2273
HCO #194700185