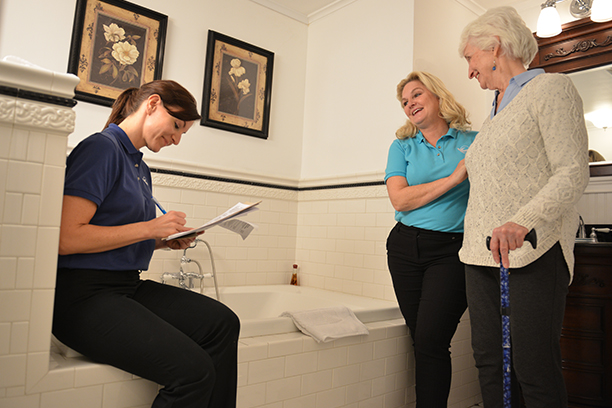 How Transitional Care in Santa Fe Reduces Hospital Readmissions
Ready-Set-Go Home with Transitional Care
Are you looking for a helping hand with your loved one's upcoming discharge from the hospital? Transitional care is a type of care that assists seniors with moving from one setting to another. The transitional care program provided by our compassionate team at Visiting Angels® Santa Fe supports elderly adults as they are discharged from the hospital and begin the recovery process at home.
We refer to this program as Ready-Set-Go Home as it focuses on preparing seniors for their recovery and assisting them with their needs in the comfort of their home environment. These services are intended to enable seniors to avoid repeat visits to the hospital and stay where they feel most at ease.
What Causes Readmissions Among Seniors in Santa Fe?
Nearly one in five seniors on Medicare return to the hospital in a few short weeks following their discharge. These statistics show how important it is for older adults to have help at home in this window of time when they may feel most vulnerable.
After a hospital stay, elderly adults often don't feel ready to return to their normal rhythm at home. They may struggle to complete tasks that once came naturally to them, either because of exhaustion or mobility limitations. When they lack support with these basic routines, they may not be able to keep up with implementing their doctors' orders. All too often, this results in missed medication dosages, skipped meals, and a decline in their physical condition that sends them back to the hospital.
How Our Transitional Care Program Can Help
At Visiting Angels Santa Fe, we've devised a comprehensive transitional care program specifically for seniors who are set to be discharged from the hospital. Ready-Set-Go Home is based on a three-pronged care approach that covers the many needs older adults have as they prepare to be discharged and return home. Take a look at these care prongs in action:
Assistance in the hospital setting. We guide seniors and their concerned family members as they look forward to the hospital discharge and assist with the planning process.
Personalized support in the comfort of home. Our caregivers offer a wide range of services to facilitate a smooth recovery for care recipients.
Help from the staff at our office. Our office staff keep up with seniors' progress and provide support with coordinating care and reminders.
Call Visiting Angels Santa Fe today to arrange your no-cost transitional care consultation in Santa Fe, Taos, Espanola, Los Alamos, Bernalillo, Corrales, or a community in the vicinity.
Serving Santa Fe, Taos, Espanola, Los Alamos, Bernalillo, Corrales and Surrounding Areas
Visiting Angels SANTA FE, NM
411 St Michaels Dr #3
Santa Fe, NM 87505
Phone: 505-417-6771