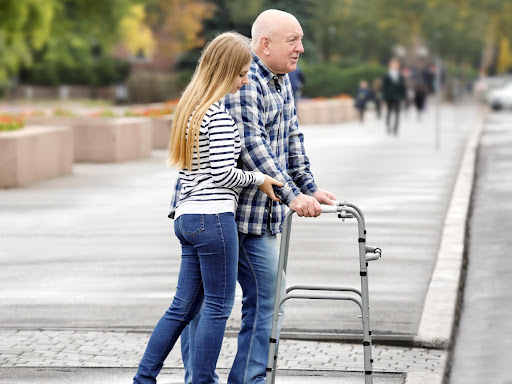 Why Consider a Caregiving Career
In 2021, many individuals left their jobs searching for a more fulfilling career. No longer are people opting to work business hours in an office, but instead looking for positions with flexible shifts and the opportunity to connect with others and build stronger relationships.
If you feel aligned with these desires, you may want to consider working as a caregiver with Visiting Angels. Our employees enjoy caregiving with our agency because they can set their schedules, meet amazing clients, and connect with coworkers who share similar values while spending their working day in a rewarding job.
The Role of a Caregiver
At-home caregivers with Visiting Angels are responsible for assisting seniors with nonmedical tasks. These tasks include light housekeeping, laundry, cooking, meal preparation, and medication reminders. Some clients may also request personal care services, which would mean the caregiver would help with additional tasks such as mobility assistance, showering, toileting, grooming, and dressing.
Visiting Angels also offer various specialized services, which we train our caregivers in if they're taking on a client that requires these services. Some of our technical services include:
Dementia Care: Caregivers who provide dementia care work with clients living with dementia, including Alzheimer's disease. You'd give similar companion and personal care services but with the understanding that your client's care plan may regularly change to the diverse needs of dementia patients.
Transitional Care: We offer transitional care for seniors returning home after hospitalization. Caregivers who provide transitional care may help transport seniors from the hospital back to their homes and assist with nonmedical follow-up care (medication reminders, showering, healthy meals, etc.)
End-of-Life-Care: Seniors entering the final stages of life may request an at-home caregiver as part of their hospice team. A caregiver's role in end-of-life care is about helping seniors stay comfortable. This care may include helping them move around their home, cooking meals, and providing companionship.
Benefits of Caregiving
A lot of work and responsibility comes with being an at-home caregiver, but there are many benefits to a caregiving career.
You can see the impact of your work every day. One of the most motivating parts of any career is seeing how your contributions impact your company, customers, or clients. As an at-home caregiver, you see how your actions improve someone's life. Your services allow seniors to age safely and comfortably at home, and clients are more than willing to show you their appreciation.
You'll have a supportive work environment. We care about our employees at Visiting Angels and do our best to provide everything caregivers need for a successful career. This includes competitive pay, training, and flexible scheduling.
You have autonomy in your work. As a caregiver, you'll often be the only one working with your client. You will have a manager and care coordinator available for questions and guidance but won't have someone micromanaging your services. That means it is up to you to ensure your client receives the proper care and alert your team if something within the care plan needs to be addressed.
Starting Your Career with Visiting Angels
Visiting Angels The Villages is hiring compassionate caregivers to serve clients in The Villages, Lady Lake, and Fruitland Park, Florida. We have part-time and full-time positions available with competitive pay and flexible scheduling. We also provide complete training to all new hires, so while previous experience is welcomed, we're happy to work with anyone passionate about caregiving. Plus, you get to work with fantastic office staff and a team of employees.
Do you think you would make an excellent caregiver? Complete an online application or call us at 352-643-0702 to learn more about a career with Visiting Angels.