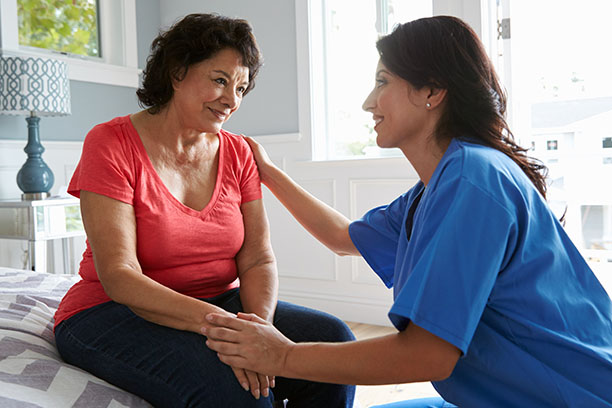 Dementia Care in The Villages, FL
Has your relative recently received a diagnosis of Alzheimer's or dementia, leaving you wondering what to do next? Or perhaps you've been coping with a loved one's memory loss for a while now, but are beginning to feel worn out. Whatever the case may be, dementia care from Visiting Angels® The Villages can help. We send caregivers into homes across The Villages, FL, Lady Lake, Fruitland Park and Sumter County and Lake County to help seniors and their families navigate the difficulties of dementia with a steady hand and a gentle touch.

Our caregivers in The Villages, FL come equipped with strategies we developed with the Alzheimer's Foundation of America. With top-quality care in your corner, your loved one can continue to live at home with dignity.
How Dementia Care Helps Seniors in The Villages, FL
Dementia and Alzheimer's are something no family should face alone. On top of the many needs of the senior themselves, the pressure and anxiety facing family caregivers can be overwhelming. Forging ahead without the skilled dementia care and support from our caregivers in The Villages, FL can put both you and your loved one in a precarious situation.
Some of the risks facing seniors without dementia care from our caregivers in The Villages, FL include:
Forgetting to take medications, fill prescriptions, or attend appointments
Injuries from disorientation resulting in dizziness, slips, or falls
Decreased self esteem leading to social withdrawal and loneliness
In-home accidents like leaving appliances, burners, or water running
Bills piling up, going unpaid, or other important mail being neglected
Poor nutrition, dehydration, or neglected personal hygiene
Caregiver burnout due to physical and emotional exhaustion
Free Dementia Care Consultations in The Villages, FL
At Visiting Angels The Villages, we know that you've already got a lot on your plate. That's why we offer free, in-home consultations on dementia care to families in The Villages, FL as well as Lady Lake, Fruitland Park, Sumter County, Lake County and the surrounding areas.
We hope that speaking with one of our expert care directors face-to-face will be the first step towards putting your mind at ease. It's a chance for you to ask any questions you may have, and to learn about all the available care options available to you. Consultations come with absolutely no obligation, and are completely free of charge. So Why wait?
To book your free in-home consultation on dementia care in The Villages, FL, call Visiting Angels The Villages today.
Serving The Villages, Lady Lake and Fruitland Park, Florida
Visiting Angels
SERVING THE VILLAGES
13940 SE Hwy 441 #204
Lady Lake, FL 32159
Phone: 352-643-0702
299995316