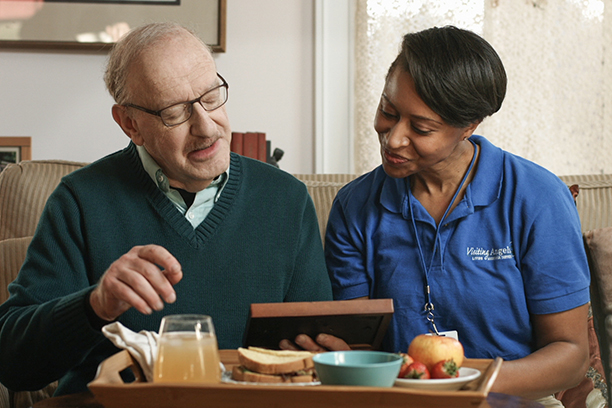 Visiting Angels Simi Valley and Surrounding Areas Testimonials
The reviews and testimonials about Visiting Angels are an important way for us to receive feedback so we can be assured our caregivers are providing the best possible home care and take action where needed. We'd like to thank those who so readily share their home care reviews and share some of them with the public. Here is just a small sample of some of the reviews we've gotten for Visiting Angels of Simi Valley, Moorpark, Santa Paula, Fillmore, Westlake Village, Agoura Hills, Oak Park, Malibu, Winnetka, Canoga Park, and West Hills.
"I can't say enough about Visiting Angels and their team of caregivers.They are fabulous! My husbands decline was rapid and Lynn was there to help every step of the way. We were in constant touch and she went above and beyond to fulfill my caregiving needs...even calling me while she was at the airport and on breaks during a Visiting Angels conference she attended. The caregivers she sent to me were wonderful also....very concerned and attentive to my husband who has dementia. They worked with Lynn to try to accommodate my schedule adjustments and did their best to be available when I needed them. All this with some of the best rates in the area. She and her staff are truly in this business to help others in time of need. I highly recommend them - Marcia S.
"I have an 89-year-old father living with my family. We have four children all under 12 and a Great Dane in the house as well. We've been through multiple agencies in the course of a year who were disappointing on so many levels, but mainly put my father's health in jeopardy and in one instance his safety with an aide that they did an insufficient background check on.

Jim, the owner of Visiting Angels in Simi Valley, periodically checks up on his staff at my home, works with me weekly to make sure we have consistency with who he sends to take care of my dad. He's very conscientious of what our needs are and works very hard to schedule the same caregivers for us seven days a week. The caregivers that we have help in all aspects of my fathers care as well as some basic housekeeping that are all related to him. They're excellent with my family and do not feel like strangers in my house.

You will not find a better agency anywhere in Southern California I promise you! Nor will you find better caregivers associated with them. I only wish I knew about them from the beginning, it would've saved me a lot of heart ache and pain" - Michael S.
Serving Simi Valley, Moorpark, Westlake Village, Agoura Hills, Malibu, Canoga Park, West Hills, Winnetka and Surrounding Areas
Visiting Angels
SIMI VALLEY, CA
1176 Roadrunner Way #B
Simi Valley, CA 93065
Phone: 805-261-2500 or 818-962-5881
Fax: 805-261-2505