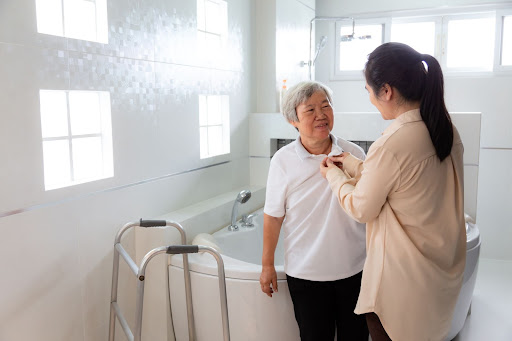 Corporate Skills that Transition Well into Professional Caregiving
The American workforce is in the middle of The Great Registration, a movement where many corporate employees leave their jobs for more meaningful and rewarding work. Some individuals stay within their industry but look to find better company culture. Others choose to make a significant change to find work that aligns with their core values.
If you're someone who has recently left your corporate job, or you're searching for a position that makes a difference in people's lives, you may want to consider being a professional caregiver.
What is a Professional Caregiver?
A professional caregiver is a trained individual who provides nonmedical assistance to seniors to age comfortably and safely at home. Professional caregivers can help with various tasks such as light housekeeping, cooking, medication reminders, personal grooming, mobility assistance, transportation, and more.
It's essential to note that caregivers are not the same as nurses or CNAs. Professional caregivers do not provide any medical care to clients. Their primary role is to help with daily tasks around the house that make seniors' lives easier.
Transferable Corporate Skills
If you come from a corporate background, you may feel wary of making the transition into caregiving without prior experience. However, many of the skills you've developed in your corporate job can help you become an effective caregiver.
Communication
Communication is how you explain information to others. A good communicator can easily share complex ideas to understand. They're also good at sharing the "why" behind actions, which is helpful when working with seniors. Newer clients may not understand the role of a caregiver or why a caregiver is performing specific tasks. Through skilled communication, the caregiver can help the client know what they need to know and explain the importance of their role to make them feel comfortable.
Problem Solving
Excellent problem solvers can identify problems and quickly implement solutions. A problem doesn't have to be a major catastrophe. Problem-solving for a caregiver occurs almost daily as you help clients navigate new challenges at home as they age.
Leadership
Leadership in the corporate world is about your ability to influence a group or team. It's about building trust and making people feel confident in their decision to do what you ask. In caregiving, strong leadership skills help the client and their family trust in your abilities to provide quality care.
Emotional Intelligence
Emotional Intelligence is your ability to understand and manage emotions positively. It also refers to your ability to recognize others' feelings and empathize. As a caregiver, you're spending a lot of time interacting with an aging individual who is likely experiencing many changes, physically and mentally. There may be times when helping a client is stressful, and you need to have the skills to manage your stress at the moment so you can provide the proper care. You'll also want to understand your client's emotions and work to address the situation so both you and the client are okay.
Working with Visiting Angels
If you believe you have the skills to start a career as a professional caregiver, consider working with a home care agency such as Visiting Angels. We offer competitive pay, flexible hours, paid training, paid time off, bonus opportunities, and more. We're currently hiring for part-time and full-time positions.
Our Southwest Colorado office serves Pagosa Springs, Cortez, Alamosa, San Luis Valley, Durango, and Farming, New Mexico. Send us your application today if you'd like to learn more about caregiving opportunities with Visiting Angels.