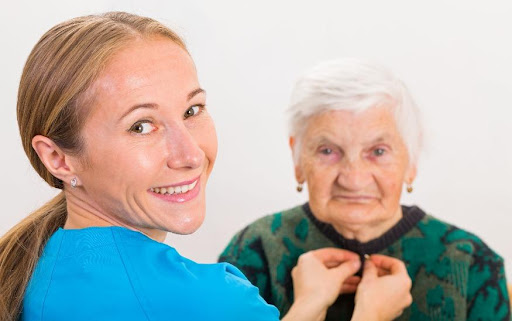 Misconceptions About Working as a Professional Caregiver
Have you considered becoming a professional caregiver but steered away from making a move based on rumors you've heard about the career? Unfortunately, many misconceptions are associated with caregiving, and learning the truth behind those misconceptions might persuade you to try it as your next career.
Misconception 1: You need a professional healthcare background
Does having a nurse or certified nursing assistant background help with working as a professional caregiver? Yes, but it's not necessary for a successful career. When we hire people, we provide paid training to teach individuals the technical skill sets involved in caregiving.
When hiring, we're more concerned with finding people who are kind, compassionate, hard-working, and have solid communication skills. A strong work ethic and knowing how to interact with others are vital at caregiving's core. Those skills will make you a successful caregiver, which sets our team apart from other caregiving services.
Misconception 2: You're on call 24/7
Caregiving can be a full-time job, but plenty of part-time work is also available. At Visiting Angels, all our caregivers enjoy flexible scheduling built around the times that work best for them. If a caregiver prefers working early mornings to have nights off with their families, we pair them with clients who need assistance at the start of their day. If caregivers want to work overnight shifts, we match them with clients who need late-night help.
Each caregiver has a set schedule week-to-week, so you're never expected to cover a last-minute shift. However, we also have plenty of bonus opportunities or available work when you're having a light week or want to pick up extra hours. All scheduling goes through our offices, and clients don't have access to caregivers' personal information so they won't be distributing your off time.
Misconception 3: It's a thankless job
One of the primary reasons we hear caregivers say they love their job is how rewarding it is. When you're a caregiver, you're providing a service to clients that allows them to live safely and independently in the comfort of their homes. Without your work, they wouldn't be able to do everyday tasks like cleaning their house, cooking, grooming, bathing, or using the bathroom. Many clients we work with are beyond grateful for their caregivers and regularly express appreciation. And when clients aren't sharing their graces, their families contact us to say how caregivers are creating ease and taking the stress out of their lives.
Misconception 4: You're on your own
Yes, working as a professional caregiver means you are alone at your clients' houses. We expect caregivers to be self-starters and have the time management and responsibility to ensure all tasks get completed during their shifts. However, just because you're working alone doesn't mean you're alone in your position.
We have a fantastic office staff that is available to caregivers and clients whenever there's a question. As a caregiver, you also have a manager and coworkers you can turn to on rough days or when you need support. We do our best to cultivate a continuous learning environment and encourage our caregivers to connect, ask questions, and motivate each other to be the best caregivers possible.
Misconception 5: There are no career advancements
Caregiving comes with many facets and dimensions. Some people start as caregivers and choose to stay in the position for many years. Others use caregiving as an introduction to different care careers and continue their education to become certified nursing assistants or nurses. Even within caregivers, there are many options to specialize in care types, such as dementia care or transitional care. You can also grow to become a mentor, manager, or coordinator, depending on your skill set and career goals.
Do you think professional caregiving might be the right career choice for you? The team at Visiting Angels Southwest Colorado would love to connect! Please send us your information or call 970-264-5991.