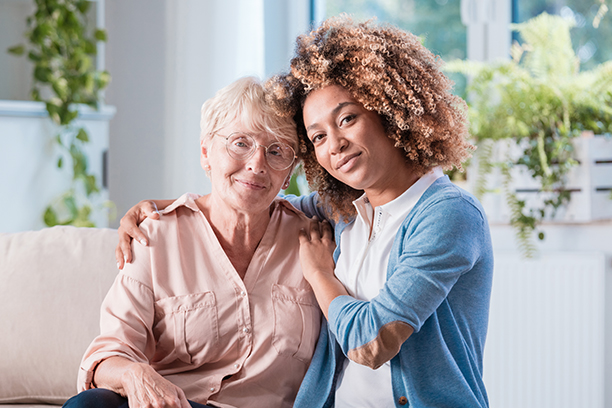 Home Care in Pagosa Springs
Visiting Angels® Southwest Colorado provides compassionate home care so local seniors can live more comfortably and happily in their own home. We offer comprehensive senior home care across Southwest Colorado and New Mexico, including Pagosa Springs, San Luis Valley, Cortez, Durango, Alamosa, and Farmington.
Our trusted and dedicated professional caregivers provide personalized, one-on-one support to help older adults flourish in the homes and communities they love.
About Our Home Care in Pagosa Springs
Everyone, whatever their age, deserves to live comfortably, happily, and on their own terms. We're here to do whatever we can to make your senior loved one's life simpler, more secure, and more enriching with our personalized home care services.
Depending on the unique needs of your elderly loved one and your family, our services can include:
Light housework
Errands and grocery shopping
Walking support
Bathing and dressing assistance
Diet monitoring and meal preparation
Medication reminders
Temporary coverage for family caregivers
Uplifting companionship
At Visiting Angels Southwest Colorado, we know your home care needs don't take a break for weekends or holidays, or even for a full night's rest. We offer 24/7 care, so you can get the assistance you want when you need it.
Whether you require short-term home care services or long-term support, we're here to make your life easier. To accomplish this, we'll guide you through the following care process by:
Talking with you about your care needs, scheduling options, and the costs of care
Setting up a no cost in-home care consultation with you and any family members involved in your care
Working with you to build your personalized care plan and schedule
Selecting the best caregivers for your family based on their experience, skill set, and personality
Scheduling a meeting with your potential caregiver before care begins
Personal Care in Pagosa Springs
Many everyday tasks that once seemed so simple can become harder and potentially dangerous for seniors living at home. Through our personal care support, we help seniors and people with disabilities manage these tasks more comfortably.
As part of our personal care services in Pagosa Springs, our caregivers can assist your loved one with a wide range of tasks, including:
Bathing and dressing
Walking and transferring assistance
Providing medication reminders
Planning and preparing meals
Buying groceries and running routine errands
Companion Care in Pagosa Springs
At Visiting Angels Southwest Colorado, we consider the social and emotional needs of seniors along with their physical ones. We're proud to provide companion care to support their well-being and bring more joy into their everyday life.
Many seniors start to feel isolated and alone, especially when they can't get around as freely as before. With companion care, your loved one will receive one-to-one attention and support from a compassionate care professional. Our caregivers can assist with everyday tasks while putting your loved one at ease and helping them re-engage with the activities they enjoy.
Respite Care in Pagosa Springs
Being able to support your loved one as a family caregiver is the ultimate gift. However, the demands of caregiving are often too much for anyone to cope with on their own. Between your loved one's changing needs and the demands of your own everyday life, you may risk burning out unless you have the right support.
Whether you need time off to deal with a personal emergency, or simply to rest and feel more like yourself, our temporary respite care can help. We'll connect you with a dedicated caregiver who can take on your caregiving duties for an afternoon, a day, or a week — whatever you need. We can also make respite care a regular part of your loved one's care plan.
Alzheimer's Care and Dementia Care in Pagosa Springs
Alzheimer's disease is the most common form of dementia, affecting millions of American families. If your loved one has been diagnosed with Alzheimer's, they may feel lost, confused, or agitated. Your family may also worry about whether they're still safe on their own.
We understand how devastating and disorienting dementia can be for seniors and their families. Our home care services in Pagosa Springs include specialized Alzheimer's care and dementia care to help address memory loss, confusion, and other symptoms.
We can create the calming environment your loved one needs while ensuring they're eating well, taking their medications, attending their appointments, and staying mentally engaged. Our caregivers can also monitor your loved one's condition, prevent wandering, and provide whatever help they need to stay in a familiar setting.
Hospital Discharge Support in Pagosa Springs
For seniors and other individuals who have just gotten home from the hospital, the first few weeks can be challenging. Our Ready-Set-Go-Home program is designed to reduce rates of hospital readmission. Through this transitional care program, our caregivers can help your loved one adhere to their discharge instructions and provide the support they need to recover safely and fully at home.
Fall Prevention Support in Pagosa Springs
Falling is one of the biggest health risks for seniors. A fall can cause significant injuries that prevent many seniors from living independently. Unfortunately, many age-related health issues like arthritis and impaired eyesight can increase the risk of a fall.
As part of our Safe and Steady Fall Prevention program, we can address your loved one's fall risk by making recommendations for improving safety in their home and lending a supportive hand when they walk, getting in and out of cars, and generally navigate their homes.
Palliative Care in Pagosa Springs
Our palliative care is a holistic service meant to enrich the lives of our clients with serious illnesses, whatever their age or predicted life expectantly. To promote your loved one's comfort and quality of life, our care professionals will strive to address their needs socially, physically, spiritually, and emotionally.
End of Life Care in Pagosa Springs
Our end of life care includes physical and emotional support services for those going through the end of life transition or in the final stages of a terminal disease. Our caregivers will work to minimize your loved one's discomfort during this sensitive time.
We can also take on the day-to-day chores and other routine care tasks, so your family can focus on each other during your remaining time together. We work alongside Hospice, to ensure the best care.
About Our Caregivers
Visiting Angels Southwest Colorado is a fully bonded and insured provider of home care services. Our caregiving team includes dedicated and compassionate professionals who provide the comfort and care your family needs. Each care professional on our team has been thoroughly vetted, including a background check. Our trainings include dementia, diabetes care, home health aid, nutrition classes, CPR, and basic life saving to name a few. This allows every Angel caregiver the tools to support the unique needs of our clients.
Get Started with Home Care in Pagosa Springs Today
Our care professionals are here to help. To learn more about our home care in Pagosa Springs, call (970) 264-5991 to arrange a no-cost consultation.
*Visiting Angels follows all CDC guidelines and recommendations regarding COVID-19.
Serving Pagosa Springs, Cortez, Alamosa, San Luis Valley, Durango, CO & Farmington, NM Areas
Visiting Angels
SOUTHWEST COLORADO
301 N Pagosa Blvd #B10
Pagosa Springs, CO 81147
Phone: 970-264-5991
Fax: 970-264-5996