Senior Care Services in Torrance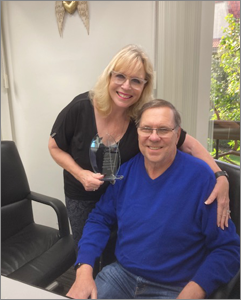 Marian Sullivan-Karons and Duane Karons became proud owners of Visiting Angels Torrance in the winter of 2009. Marian, a graduate of UCLA (Class of '76 – go Bruins!),  was taking a break from one of her successful real estate ventures, talked her husband, Duane (a successful entrepreneur in his own right) into investing in  an opportunity to give back to their community. Visiting Angels were just the right fit and the rest is history.
The business has grown every year of its own and they have been named a Provider of Choice and a Trusted Provider every year since the awards were established. They employ some of the finest Caregivers in the South Bay and have been named an Employer of Choice for several years running. Active within the communities which they serve, Torrance, all the Palos Verdes Peninsula, Redondo Beach, Manhattan Beach, Hermosa Beach, and Gardena, both Marian and Duane stand committed to serving the seniors with the highest quality home care.
Call Today for a Free in-home assessment!

Home Care Services for Seniors in Torrance, CA, and Surrounding Areas
Welcome to Visiting Angels of Torrance! Our home care agency caters to the needs of independent seniors throughout Torrance, Gardena, Lawndale, Hermosa Beach, Manhattan Beach, Palos Verdes, Palos Verdes Estates, and surrounding communities.
Our agency is owned and operated locally. We are committed to helping seniors live full and happy lives in the comfort of home. If you are an aging adult who enjoys the freedom of living at home, but needs a helping hand, in-home health care from Visiting Angels of Torrance can provide an ideal solution.
How Can Visiting Angels of Torrance Help My Loved One?
At Visiting Angels of Torrance, we care for seniors in their homes, ensuring that they remain in familiar surroundings while receiving the skilled care they need, when they need it. Our team of caring and compassionate caregivers is trained to help our clients maintain their independence as much as possible.
Our in-home senior care services in Torrance, CA include:
Our dementia care services can provide the day-to-day support your loved one needs while also helping them manage symptoms of dementia.
We can provide meaningful companionship for your loved one in order to help them feel less lonely and isolated.
Our home care providers can assist your loved one with bathing, grooming, toileting, getting dressed and more.
Our end of life care services can provide compassionate support for your family and your loved one.
Our caregivers can help your loved one return home from the hospital and safely recover in order to reduce their chances of being readmitted.
Long-Term Care
Visiting Angels Torrance provides long-term support for seniors who need an advanced level of in-home care.
Our home care services are tailored specifically to the needs of individual seniors, which allows us to provide them with the highest level of care we can muster. We offer individualized care plans to suit your loved one's needs, interests, and schedule. Whether your loved one needs help with activities of daily living such as bathing or grooming or would prefer to stay in their own home without supervision but require some assistance with household tasks such as cooking or cleaning, the dedicated team at Visiting Angels Torrance is here for you.
The Difference Our Compassionate Caregivers Can Make
You can rest easy when you select a home health care provider from Visiting Angels of Torrance. We utilize an intensive interview process to ensure our caregivers are trustworthy and kind.
Our home care providers are screened and thoroughly trained to provide the compassionate and comprehensive care that seniors require. We believe in creating a strong relationship built on trust and respect with our clients so that they can make informed decisions regarding their health and personal care needs.
Our caregivers are true companions and are qualified to meet the unique needs of every senior in our care. We're more than just sitters; we're a reliable and caring presence in your loved one's life
Visiting Angels will work to match your loved one with a compatible, friendly caregiver that is best suited to meet their needs. You are bound to be pleased with the senior care professional you choose from Visiting Angels of Torrance.