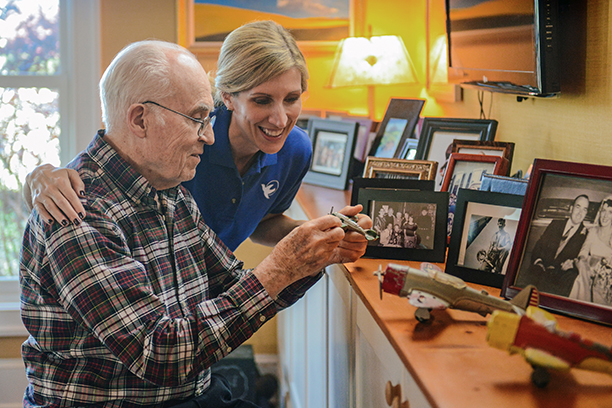 In Home Care in Wheeling Reduces Hospital Readmission - Visiting Angels
Ready-Set-Go Home with Transitional Care
For elderly adults, a hospital admission can be the beginning of a series of readmissions and health concerns that eventually result in a loss of independence. It's essential to do everything possible to prevent this cycle from occurring. Getting started with transitional care is one way to help a loved one in Wheeling who is in the hospital and will soon be discharged.
At Visiting Angels® Ohio Valley, we know what a significant impact dedicated and personalized care can make on seniors' ability to recover and return to their independent lifestyle in the Wheeling area. Our Ready-Set-Go Home transitional care program assists seniors from before they leave the hospital to well after they return home, helping minimize their chances of complications and resulting rehospitalizations.
What Are the Causes of Rehospitalization in Wheeling?
Studies have shown that rehospitalizations among adults 65 years old and older are quite high. One in five seniors on Medicare returns to the hospital within only a month of being discharged. Unfortunately, repeated readmissions can lead to exposure to hospital-acquired illnesses and reduce the likelihood of seniors regaining their prior levels of functionality.
There are a number of risk factors that can influence a senior's chance of being rehospitalized. Some of the most common ones are social isolation and minimal family support at home. When combined with the exhaustion and lack of motivation seniors often feel after a long hospital stay, these factors can contribute to risky behaviors like taking medications improperly and skipping meals. As a result, many seniors experience a decline in their health following a discharge that necessitates a return to the hospital.
How Our Transitional Care Program Helps
Our Ready-Set-Go Home program includes plenty of resources for both seniors and their family members. As part of this program, we meet with seniors in the hospital to begin the discharge planning process. Once we have prepared them for their upcoming discharge and helped them return home, we provide ongoing home visits to assist with their daily routines.
Our caregivers can help out with bathing, grooming, cooking, tidying up, and more. Our team can be relied upon to remind seniors about their medication schedules and notify family members of any risky behaviors or red flags.
Learn more about transitional care today. Call Visiting Angels Ohio Valley to book a free consultation in Wheeling, Barnesville, Martins Ferry, Moundsville, St. Clairsville, Steubenville, Weirton, Wintersville, or a nearby town.
Serving Wheeling and The Upper Ohio Valley, West Virginia
Visiting Angels
UPPER OHIO VALLEY, WV
76 Sixteenth St #500
Wheeling, WV 26003
Phone: 304-214-5550
Fax: 304-277-3190