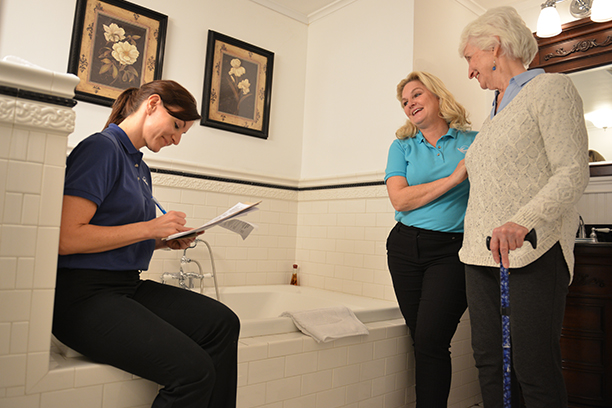 How Caregivers from Visiting Angels Wall Help Seniors
If you have a loved one who is struggling with age-related difficulties, home care can make daily life safer and more comfortable. At Visiting Angels Wall, our caregivers help out in a number of ways. Our services include physical assistance, memory care, companionship services, and more. We customize care for each client, bringing different services together to meet the specific care needs of every senior we serve.
If you have a loved one in Wall or Manasquan who could benefit from a helping hand around the home, the caregivers at Visiting Angels Wall will be happy to help. Here are some of the ways our caregivers assist local seniors:
Caregiver Support for Physical Difficulties
Our caregivers commonly care for Wall seniors who are coping with physical difficulties. If your loved one has poor mobility, decreased strength, or another physical concern, our caregivers can help. We help out with tasks around the home and assist with daily activities where needed, such as dressing, grooming, and bathing. This makes it easier for seniors with age-related physical challenges to age in place.
Memory Care for Wall & Manasquan Seniors
If you have a loved one in Wall or Manasquan who is starting to lose their memory to age or dementia, our caregivers can provide your loved one with specialized memory care. Our care keeps seniors safe through the day and offers respite for family caregivers. We can also plan and prepare brain-healthy meals and can reduce stress by offering compassionate reassurance during moments of confusion, disorientation, and anxiety.
Lifestyle Assistance & Non-Medical Care
When planning care, we will be happy to consult with your loved one's physician to ensure our care follows doctor's orders. Our caregivers help Wall-area seniors maintain a healthy diet, practice light exercise, and avoid injury. We can also provide non-medical support to seniors with conditions like diabetes, arthritis, and Parkinson's.
Caregiver Companionship for Wall-Area Seniors
In old age, many seniors become isolated from their friends, their families, and their communities. Senior isolation is linked to a number of negative health outcomes, including increased risk of depression, injury, illness, and mortality. By providing your loved one with regular companionship, caregivers from Visiting Angels Wall can help fight the effects of senior isolation.
Select Your Caregiver® with Visiting Angels Wall
At Visiting Angels Wall, we know that quality care can only come from quality caregivers. Thanks to our rigorous hiring practices and compassionate professional culture, we've built what we believe to be the best team of caregivers in the Wall and Manasquan area.
What's more, you'll be able to choose the caregiver you work with thanks to our Select Your Caregiver® program. This program ensures a great fit between our caregivers and their clients from day one. So it's no wonder so many Wall families rely on the caregivers at Visiting Angels Wall.
Contact Visiting Angels Wall today to schedule a free caregiver consultation for your loved one.
Serving Southern Monmouth County
Visiting Angels
WALL, NJ
2510 Belmar Blvd K8
Wall, NJ 07719
Phone: 732-722-7747
Fax: 732-722-7748