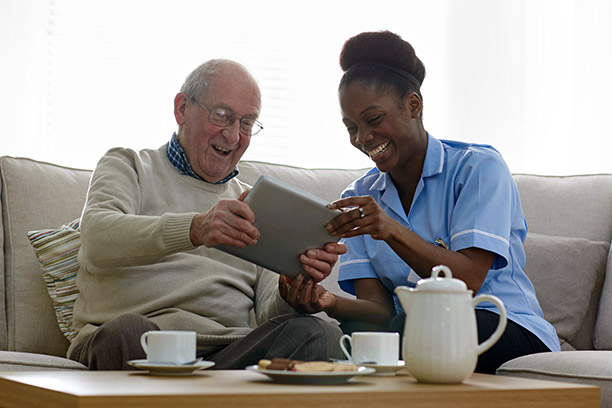 Alzheimer's Care in Wall, NJ
Our Mission: To Improve the Quality of Life for Those Suffering with Alzheimer's Disease and Their Families


Alzheimer's Services from Visiting Angels Wall NJ
Navigating your way through a diagnosis of Alzheimer's or dementia is like sailing into uncharted territory. While you may be familiar with the general effects of memory disorders, there is no way to predict the exact timeline or effects Alzheimer's will have on your loved one. The memory care specialists from Visiting Angels Wall NJ can offer Alzheimer's services to give your family helpful guidance. Our caregivers are knowledgeable when it comes to memory care and are able to successfully work with clients who struggle with Alzheimer's and dementia. Home care services from Visiting Angels Wall NJ can have a positive impact on your loved one's life.
Visiting Angels Wall NJ Answers Calls Around the Clock
Alzheimer's care services from Visiting Angels Wall NJ are specialized and we understand there may be times when you need to get ahold of us right away. Professionals from our agency are available to answer client calls around the clock. Even overnight, someone from Visiting Angels Wall NJ will be able to return your phone call regarding Alzheimer's services within 15 minutes. Your peace of mind is important to us and we do everything in our power to give you a prompt and satisfying response.
Getting Started with Alzheimer's Services
Because Alzheimers is a complicated illness, we want your experience with finding care to be as simple as possible. When you call Visiting Angels Wall NJ for Alzheimers services, the first thing we will do is schedule a convenient in home consultation. While in your loved one's home we will perform a complimentary safety assessment and fall risk analysis. Our skilled professionals can offer suggestions for ways to keep your loved one safe.
We will also spend time getting to know your loved one and gaining an understanding of their memory care needs. When we have a complete picture of your situation we will return to our agency and find caregivers who possess the skills required to most effectively meet your loved one's care needs. As the last step in the process, you will have the opportunity to sit down with these qualified Alzheimer's services providers from Visiting Angels Wall NJ and select the one you want to work with.
If you are looking for Alzheimers services which are attentive to your individual needs, call Visiting Angels Wall NJ today.
.
Serving Southern Monmouth County
Visiting Angels
WALL, NJ
2510 Belmar Blvd K8
Wall, NJ 07719
Phone: 732-722-7747
Fax: 732-722-7748