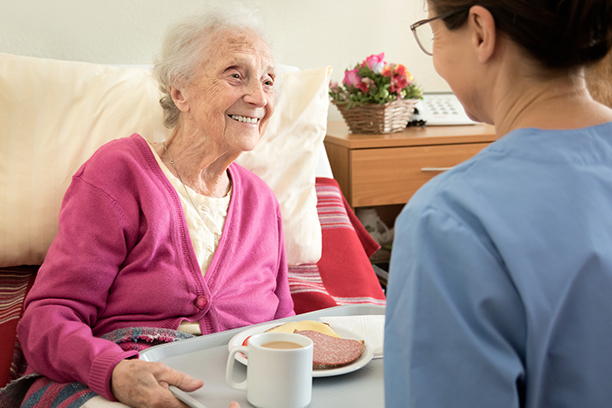 How Alzheimer's Care Helps Wall Seniors & Families
At Visiting Angels Wall, few of our services have a bigger impact on seniors and families than Alzheimer's care. Through Alzheimer's care, we help Wall seniors coping with Alzheimer's live more safely, comfortably, and happily at home. For their family members, we make care less overwhelming, giving them a chance to breathe and recover their bearings in what is often a stressful and thankless position.
If you're considering Alzheimer's care for a loved one, here are some of the ways that the care professionals at Visiting Angels Wall can help:
Benefits to Alzheimer's Care for Wall Seniors
The caregivers at Visiting Angels Wall have one clear goal when providing Alzheimer's care: we want to keep your loved one safe and comfortable at home for as long as possible. We know how important a familiar and stable environment can be to the mental and emotional well being of Alzheimer's sufferers. We also know how traumatic a move to an unfamiliar environment — like an assisted living facility or nursing home — can be on those with Alzheimer's.
To help your loved one extend their years spent in the comfort of a familiar environment, our Alzheimer's care professionals offer quality care in your loved one's home. Our Alzheimers care providers also encourage a brain-healthy lifestyle, which can slow the progression of Alzheimer's. We plan and prepare brain-healthy meals for seniors in our care, encourage light exercise, and help manage the anxiety, agitation, and stress that often exacerbates Alzheimer's.
Benefits to Alzheimer's Care for Family Caregivers
Alzheimer's care from Visiting Angels Wall doesn't just have benefits for seniors coping with Alzheimer's. It can also make a huge difference in the lives of family caregivers. If you provide care for a loved one with Alzheimer's and often find yourself anxious, stressed, or overwhelmed by care, our caregivers can offer much-needed respite and support. By sharing the responsibilities of care with our professional caregivers, you can reclaim the time you need to take care of your own physical, mental, and emotional health.
Alzheimer's Care with Visiting Angels Wall
It's easy to get started with Alzheimer's care by Visiting Angels Wall. Our Alzheimer's care specialists happily offer free care consultations to families in Wall and Manasquan. During your loved one's consultation, we will assess your loved one's care needs, answer any questions you have about care, and discuss how care can be scheduled around your loved one's routine and lifestyle.
If you decide to move forward with care, we'll arrange a meeting between a qualified caregiver and your loved one. You can meet right your loved one's potential caregiver right in your loved one's home. We work hard to find a compatible caregiver for your loved one through our Select Your Caregiver® program.
Contact Visiting Angels Wall today to schedule an Alzheimer's care consultation for your loved one.
Visiting Angels of Wall, NJ is proud to help reclaim the future for millions by participating in the Alzheimer's Association Walk to End Alzheimer's®. Currently, more than 5 million Americans have Alzheimer's and that number is expected to grow to as many as 16 million by 2050. Our future is at risk unless we can find a way to change the course of this disease.

The end of Alzheimer's disease starts with you. Feel free to visit our page to learn more about how to the Alzheimer's Association advance research into methods of treatment, prevention and, ultimately, a cure. Please visit our page to learn more: http://act.alz.org/goto/visitingangelsofwallnj

Thank you for joining the movement!
Serving Southern Monmouth County
Visiting Angels
WALL, NJ
2510 Belmar Blvd K8
Wall, NJ 07719
Phone: 732-722-7747
Fax: 732-722-7748