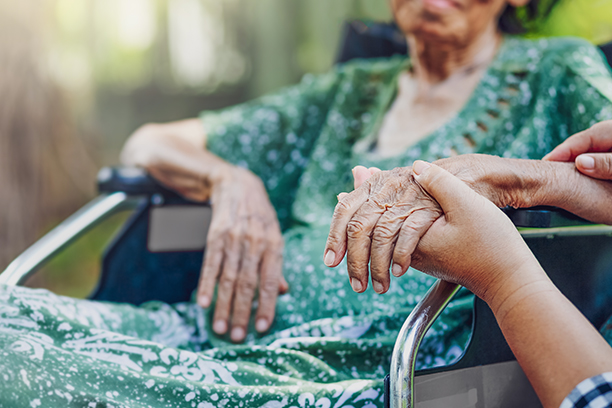 About Visiting Angels
About Visiting Angels Westchester
"Our mission is to help the elderly in Westchester continue to live safely, comfortably and with dignity in their homes for as long as possible, and to bring peace of mind to the family members who love them."
– Kate Moynihan, owner of Visiting Angels Westchester
Locally owned and operated, we are proud to be part of the Visiting Angels network of 500+ franchise locations throughout the United States. Our main office is located in White Plains.
Our Team
Kate Moynihan, Executive Director & Owner
Kate meets with all potential clients and their families to help understand their needs and provides options to make sure they get the best care possible.
Kate shares her story, "I love the name Visiting Angels. Who would not want to be an Angel? Doesn't everyone want an Angel to take care of their mother or father?
My goal is to have an Angel to care for everyone's mother or father.
We are a heart-centered agency and our guiding principle is to do what is right for the client to make sure they are well cared for and safe. Our caregivers are truly Angels who are compassionate, kind, loving, and patient.
I got involved in Senior Care as a volunteer for a program at a local hospital called "No One Dies Alone". I sat with people during the last days of their life if they had no family members to be with them. We all have someone with us when we come into this world and it is important that we have someone with us when we leave it.
I always loved the Visiting Angels commercials…and the catchy jingle. I wanted to help people at the end of their life…. I wanted to be an Angel! One day after seeing the commercial I called and asked about opening a Visiting Angels in Westchester County New York.
I started Visiting Angels in June 2014 with one client and one caregiver (me). I could never have imagined how much we have grown and how many people and families we have been able to help. We provide care ranging from a couple of hours twice a week, to 24/7 care, to end-of-life hospice care."
Kate spent many years working for Reader's Digest. Following that she spent six years working for non-profit organizations in Haiti that operated a hospital, built schools, and implemented community development projects. She made many trips to Haiti and loved helping the wonderful people there.
Kate grew up and lives in Rye, NY where she attended Resurrection Elementary School and the School of the Holy Child. She then graduated from The College of the Holy Cross and received her MBA from Purdue University.
In her free time Kate plays golf with her husband Tim. She also loves spending time with her eight grandchildren and going to the beach.
---
Barbara Stern, Administrator/Owner
Barbara is responsible for all financial functions as well as ensuring the agency follows all NY State Department of Health guidelines and requirements.
Barbara shares her story, "The need for senior care had touched me personally. While trying to juggle my own career and caring for my mother, I found that having a caring person to ensure her daily needs were met brought me such comfort and peace. It enabled me to spend time with my mother doing enjoyable activities.
I find that caring for seniors not only helps the individual who needs care but brings great relief to family members who cannot always be there. It's so important for family members to know that their relative is safe and the number one priority of our care team.
Kate and I worked together at Reader's Digest. Although we took different paths after leaving Reader's Digest, we had a similar passion for caring and bringing joy to others. I found the need for senior care with my own mother and found that providing care for seniors was a critically important mission. I had previously worked at a company that was developing cures for ultra-rare diseases. I felt that I could have a greater impact working to serve the broader community.
I have seen the impact that our care has had on many families and caregivers. We not only improve the lives of our clients but aim to provide fulfilling jobs for our caregivers. We encourage continuous improvement through in-service training and training program support."
Barbara has worked at Visiting Angels since 2015, and has a BBA and MBA from Western Connecticut State University.
---
Diana Torre, RN, Director of Patient Services
Diana oversees all patient care and supervises all Angels that are Home Health Aides and Personal Care Aides.
Diana joined Visiting Angels after a lengthy career in hospital-based nursing. She held positions as Nurse Manager, Director of Nursing and Quality Improvement Department at White Plains Hospital.
Diana says, "I've always had interest in broadening my nursing skills in geriatric and home care. Taking care of Visiting Angels patients brings me such satisfaction; hopefully making a difference for seniors who are so important, treasured members of our society deserving compassionate care. My personal experience in senior home care was initiated through the experience of a family member whose needs were met by dedicated, competent caregivers at home."
She continues, "I was introduced to Kate when I inquired about getting home care for a family member. Shortly afterwards, I began doing per diem work at Visiting Angels. Within a short period of time. I accepted the position of Director of Patient Services in 2018."
When not taking care of Visiting Angels patients, Diana enjoys travel, gardening, and spending time with her family.
Diana is a registered nurse (RN) with a Misericordia School of Nursing Diploma.
---
Danielle Ackerly, CSA, Associate Director of Client Services
Danielle manages the Angel Care Managers to ensure client needs are met.
She joined Visiting Angels in January of 2019, following seven previous years in home care with another agency. After meeting with Kate and Barbara Stern and learning about Visiting Angels, it was clear Visiting Angels was where she belonged.
Danielle says, "I was drawn to senior care by accident in 2012. Shortly after relocating to CT, I started a temp position for a home care company in Greenwich, CT. Within 3 months I was hired as a full-time employee and within a year promoted to a supervisor. At that point I knew senior care was my calling and have been with it ever since.
I believe seniors should be able to stay in their homes if it is sustainable. There is a certain joy that comes out of visiting a client in their home, viewing pictures of many generations and hearing stories. All while watching their faces light up. I also enjoy building relationships with clients, their family members and the caregivers taking care of them."
In her downtime, she enjoys playing basketball with her son, watching a great movie, and visiting with family members.
Danielle is a Certified Senior Advisor.
---
Desiree M. Soares, Human Resources Manager and Companion
Desiree manages Angel caregiver recruitment and human resource activities.
Desiree says, "I enjoy helping people, especially the elderly. After caring for both my grandmothers, I was drawn to senior care. I know what an important job it is. I care for seniors because I understand their needs. I just happen to be one of those people who want to make them happy, as much as possible. I love to help caregivers get jobs at the Visiting Angels because it is a great accomplishment for me when I assist a dedicated, qualified caregiver get a job and at the same time assist in providing an elderly person with a qualified caregiver."
She joined Visiting Angels in 2016 as a part-time Companion Angel. Previously she was a full-time paralegal for over 30 years working for attorneys in White Plains and surrounding areas. From that position she was recruited by Kate and Barbara to fill the Human Resources Manager position.
In her off-time, Desiree enjoys family life, walking, cooking, and reading.
Desiree is a graduate of Westchester Community College with an Associate Degree in Paralegal Studies/Legal Office Procedures.

---
April Bradshaw, Care Manager
April manages caregivers to ensure client expectations are met and exceeded.
April shares her story, "I started my "people helping" journey in college when I was hired as a youth counselor for an after-school facility for low income-based families in an urban area. Helping the next generation brought me so much joy. In 2010, I began my journey as a job coach/job developer for the disabled population. This position required lots of hustle and bustle and beating the pavement to find jobs for challenged individuals. Shortly thereafter I became an Assistant Residential Manager with the same population. I managed a group home of eight behavioral individuals along with 18 staff members.
In 2015, my grandmother needed extra support around the house which no one our family could provide. I was grateful to be able to care for my grandmother. This opened the door for me to senior homecare.
In 2016, my grandmother passed. At that moment, I knew senior care was the place for me. It felt like a sense of belonging to help others in need, especially seniors. They carry so much wisdom and history. I view a lot of our seniors as extended family due to the bonds that are created, even during short periods of time."
April has been with Visiting Angels for a little over five years following her previous five years working with seniors.
She graduated from SUNY College at Old Westbury with a BA in Health & Society. During her time at Visiting Angels she has completed her Home Health Certification and her First Aid/CPR certification as well.
---
Victoria Mercier, Care Coordinator
Victoria supports our caregivers with ongoing schedule needs and ensures clients expectations are met and exceeded.
Victoria tells her story, "After working in a variety of industries, it became clear to me that what I was looking for was not just a job with pay, but a career with purpose. Through pure serendipity, a Visiting Angels commercial came on just then and the rest is, as they say, history. .
I've been drawn to a career in senior care because I wanted to make a tangible and immediate difference in the lives of others. The laughs, entertainment, smiles and learning opportunities are a wonderful bonus. In the home care industry, no two days are the same, every day is an adventure. I love being able to care for others and learn and experience new things daily, both in the office and with our amazing clients.
I recently joined Visiting Angels of Westchester in June 2021. My journey with Visiting Angels and senior care has only just begun and I look forward to the years to come."
Outside of work at Visiting Angels, Victoria works on her software development skills, crocheting, and is and active volunteer.
Serving Westchester County
Visiting Angels WHITE PLAINS, NY
4 W Red Oak Ln #112
White Plains, NY 10604
Phone: 914-696-4200