JOIN OUR TEAM
Hiring HHA and Companion Caregivers NOW!
Are you a positive person who loves helping others?

Visiting Angels of Westchester, NY Receives Employer of Choice Award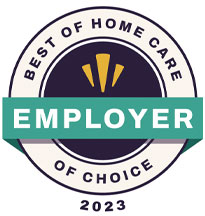 Join the Caregiver team at Visiting Angels of Westchester, NY by applying to be an Angel today. At Visiting Angels we realize that our Caregivers are the ones that make the lives of our clients so special. Our "Angels" are compassionate, kind, patient and caring.
Check out below the video testimonials of our Angel Caregivers and the benefits we offer.
To become an Angel and start a rewarding career with a heart-centered, honest and reliable home care agency, with a family culture, apply now.
Check out the benefits we offer at Visiting Angels Westchester:
Health Insurance
Paid Weekly Using Direct Deposit
Flexible Hours
Competitive Pay
Overtime Hours
Bonuses
Paid Time Off
401k Match
Dental/Vision Insurance
AFLAC Insurance
Paid Travel Time Between Jobs
Angel of the Month Recognition
CG Referral Bonus
Monthly Caregiver Newsletter
Length of Service Awards
Angel Appreciation Day
College Scholarship Program
HHA Scholarship Program
Free Shirts
Check out below the testimonials of Visiting Angels White Plains Caregivers
A very loving and supportive company. Family oriented. Very supportive.
- Nicosia
It is like a family working for Visiting Angels.
- Juliet
Visiting Angels cares for their caregivers. They assist us in any way they can.
- Patrick
Compared with other agencies, they take care of employees.
- Anonymous
I recommend you work at Visiting Angels.
- Pam
I liked the one-on-one training. It's great!
- Donna
I like the hours they give me and the clients are very nice.
- Myrna
They recognize my contributions and make me feel good about working here.
- Chanalee
I like that they are nice, and they listen to us.
- Mercy
I like how they send me to another client if I have one that passes away so that I'm never out of work.
- Bibiana
I like that the staff is very kind and understanding.
- Pamela
I like that they treat me very well.
Maria
There is always work, office people are friendly, clients are nice, and they are accommodating with travel pay.
- Rose
>>Click here to view more caregiver video testimonials<<