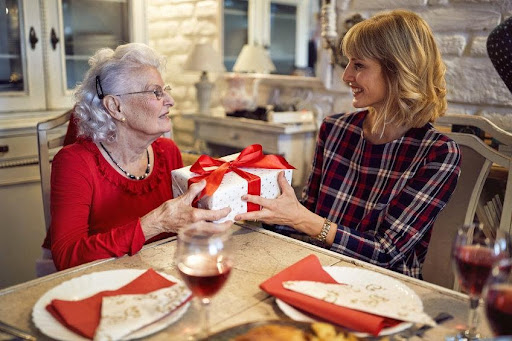 Finding care for an aging loved one after the holidays
The glow of the holidays is a great reminder of how important it is to spend time with family and how much family time is missed during the rest of the year. For some, it is the only time available to dedicate to extended family visits from out of town to see loved ones. While this time is special, you may have noticed some new concerns your aging loved one is facing.
Do you feel worried after leaving your aging loved one following the holiday festivities? If you haven't spent significant time in the presence of your senior loved one throughout the year, maybe you noticed that they had a more challenging time with everyday activities than they did before. Perhaps they had to ask for assistance to accomplish regular tasks, and you wonder, who will help them while I'm away?
For many families, the holidays are a wake-up call to the changing needs of aging adults. Whether you are far away and unable to be present or relatively nearby, but in need of assistance, there is a solution for you with a Visiting Angels caregiver. In-home care can aid in your aging loved one's health as well as the entire family's peace of mind.
Where to begin
Visiting Angels Westchester County caregivers offer a wide variety of services that can be uniquely curated to meet your aging loved one's needs. Depending on your loved one's health and changing abilities, in-home care can range from meal preparation, bathing assistance, medication reminders, and memory care services. So many options can seem overwhelming, which is why Visiting Angels offers a free in-home consultation to meet with a caregiver who will listen to your senior loved one's needs and assess their situation to make recommendations.
Some topics you may cover during the consultation are:
Current concerns that have led you to consider in-home care
Types of non-medical care that can be provided
Your preferred schedule for care visits
Your loved one's current schedule for meals, sleeping, and medications
Preferences for caregivers
Preferred types of emotional support (conversation, companionship, social activities, etc.)
Non-medical in-home care offers a wide range of support for any aging lifestyle, such as:
Alzheimer's care: If your loved one is living with this disease, caregivers can provide medication reminders, wandering prevention, transportation assistance, meal preparation, and more.
Companion care: Caregivers can provide genuine companionship for seniors to avoid isolation and depression. According to the Centers for Disease Control and Prevention, social isolation is associated with about a 50% increased risk of dementia.
Dementia care: For those at any stage of dementia symptoms, caregivers can meet the specialized needs of seniors to improve their overall quality of life.
Palliative care: If your loved one is living with a chronic illness, this form of care can help to manage symptoms to improve physical comfort as well as emotional, social and spiritual support.
Personal care: This type of care provides more intensive aid for those living with limited mobility and helps with walking, dressing, bathing, toileting, transferring, meal preparation, medication reminders, and other non-medical tasks.
Safe & Steady Fall Prevention Program: This program helps seniors prevent slips, trips, and falls at home to reduce the risk of seniors hurting themselves. These injuries are the number one reason why seniors lose their independence, but they can be avoided with the help of in-home care.
Social care program: Our caregivers can help aging adults learn to use social media and technology to stay in touch with family and friends regularly. This can be especially helpful to stave off loneliness if family members are far away from seniors.
Other programs are available for more advanced needs, including Ready-Set-Go Home care for seniors transitioning home out of an extended hospital stay and End of Life care for physical and emotional support during the final stages of a terminal illness.
Trust the process
Losing any amount of independence as a senior can be a challenging situation to come to terms with. Rather than uprooting your loved ones from their familiar environment, Visiting Angels offers assistance in the comfort of their own home.
Visiting Angels White Plains offers in-home care in Westchester County. Our dedicated and reliable caregivers have helped thousands of older adults live happily and safely in the comforts of home while providing their families with peace of mind. Reach out today to schedule an in-home consultation and learn about the options available to you at (914) 696-4200.