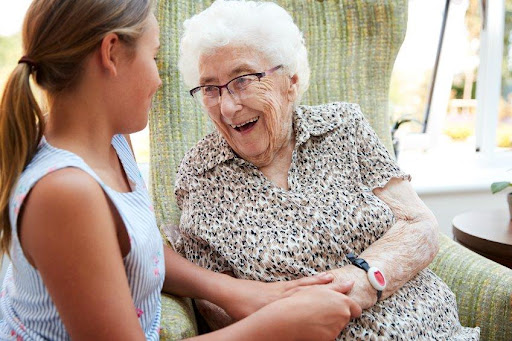 Six Ways Seniors Can Connect with Their Grandchildren
Fun and meaningful ways Westchester County families can connect.
No matter how old we get, bonding with our loved ones is always nice. And for seniors, fostering a relationship with grandchildren can create memorable, life-changing experiences.
However, with a significant age gap and different lifestyles, it can be challenging for seniors to find common ground. They may feel out of touch with what's popular or what their grandchildren are interested in.
But thankfully, there are numerous ways to create lasting bonds, regardless of age. Here are six ways Westchester County, NY, seniors can connect with their grandchildren.
1. Making Arts and Crafts Together
One great way seniors can connect with their grandchildren - or great-grandchildren! - is by making art together. It's a fun activity they can both do, regardless of age or ability. Plus, they'll have the bonus of keeping the artwork as a reminder of their time together.
Arts and crafts projects provide a chance to be creative, have fun, and let loose. In addition, allowing grandchildren to express themselves creatively will help their grandparents learn more about them and what they're interested in.
2. Using Video Chat
Video chat allows grandparents to see their grandchildren more frequently and be present for their important milestones.
Seeing each other's faces and hearing each other's voices can make a big difference in their relationship. It can also provide additional opportunities for bonding, such as watching a movie or cooking dinner together.
If they aren't familiar with computers or don't like using them, an iPad or smartphone can be much easier to figure out. And there are many kid-friendly video chat apps with parental controls to keep grandchildren safe.
3. Sharing Old Memories
Another great way seniors can connect with grandchildren is by sharing their wisdom and experiences. As children become older, they'll likely face many challenges and difficult decisions. And who better to offer guidance than someone who's been through it all before?
Older grandchildren may not always be receptive to their grandparent's advice, but it's still valuable for them to hear their stories and experiences. At the very least, it can give them a different perspective on things and help them feel less alone during adolescence.
And if they're not interested in hearing stories, that's okay too. Knowing their grandparents are there for them and care can make a big difference regardless.
4. Teaching Them Something New
A great way for seniors to bond with their grandchildren is by teaching them something new. It could be a new skill, like how to play chess or gardening. Or grandparents can teach them about their hobbies and interests.
Sharing their passions allows seniors to stay active and shows grandchildren that there's more to life once they get older. And who knows, grandchildren might just teach their grandparents a thing or two in return.
5. Sharing Old Photographs
For many seniors, looking at old photographs is a great way to remember their past. But it can also help them connect with their grandchildren in the present.
Using photographs can help them introduce their grandkids to their family history and tell stories about their lives and the people in the pictures.
Photos make grandchildren feel closer to their grandparents and help them understand their life experiences. It's also a chance for them to see what their grandparents were like when they were their age and get a glimpse into their lives.
6. Showing Appreciation for Their Hobbies and Interests
Older grandchildren are likely to have their own hobbies and interests, and sharing those things with their grandparents can be meaningful. It also makes them feel valued and gives their grandparents a better understanding of who they are and what they like.
For seniors, showing interest can be as simple as asking their grandchildren about their hobbies and what they like to do. They can even take it one step further by learning about or sharing their interests. For example, if their grandchild is interested in video games, they could try playing one with them. Or if they're involved in sports, they could go to their games or practices.
Paying attention to their activities can inspire them to continue pursuing their hobbies and help them develop stronger relationships.
Final Thoughts
Seniors can connect with their grandchildren in many different ways. However, the most important thing is for seniors to show their grandchildren that they care and want to spend time with them.
Many children enjoy spending time with seniors because they offer a different perspective on life. And as they grow up, they can learn valuable skills and lessons from these connections that will last a lifetime.
Our caregivers at Visiting Angels White Plains, NY, serving Westchester County, are here to help with the important things in life, like strengthening familial relationships. Our caregivers can assist your senior loved one with transportation to family events, help prepare the home for family visits, and even help senior clients use technology like video chat to stay connected with grandchildren and others.
For more information about how we can help your Westchester County senior loved one, please give us a call at 914-696-4200 or contact us online to schedule a complimentary care assessment.