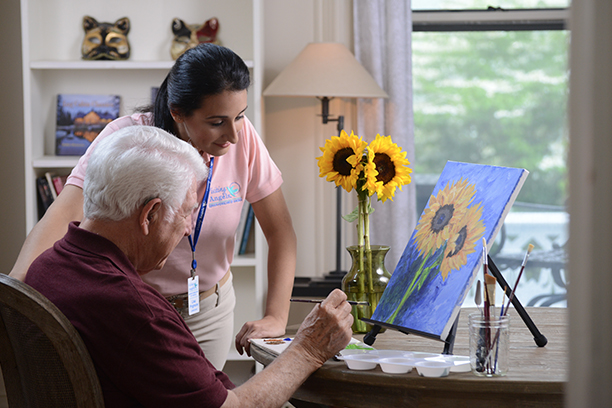 Respite Care in Winston-Salem
Caring for someone you love can be extremely rewarding as well as incredibly challenging. When you feel overwhelmed by the challenges that come along with your role, don't hesitate to look into getting started with professional respite care. The compassionate care team at Visiting Angels® Winston-Salem is available to fill in for you so you can experience the benefits of a much-needed break. By protecting your own well-being and taking the time to recharge, you can preserve your ability to continue providing the care your loved one needs.
What is Respite Care?
With the support system that respite care offers, you don't have to feel alone in your role as a family caregiver. Instead, you can have confidence there is always someone to call should you need some time to yourself. Our care plans typically revolve around accommodating temporary care needs through short-term care visits in the Winston-Salem area. However, clients can also reserve care on a more frequent basis if they desire regular breaks from their busy schedule.
How Respite Care Helps Seniors in Winston-Salem
These services are so important because they help family caregivers avoid burnout. Burnout is often overlooked, but its consequences can be detrimental to the well-being of family caregivers as well as their relationships with their loved ones. We strive to promote healthy relationships and balanced schedules by delivering flexible services and a remaining understanding of the needs of individual families.
Family caregivers aren't the only ones who can enjoy the benefits of respite care. Our services are also advantageous for seniors as they are customized to their care requirements and fit within their normal daily routines. The care providers from our team aim to make personal connections with seniors that allow for a more vibrant social life and a greater sense of well-being.
Services we often provide include:
Support with homemaking and light chores
Timely reminders about important tasks or appointments
Help with running errands and shopping
Gentle assistance with personal care activities
Warm and soothing companionship
Getting Started with Respite Care
It is easy to arrange support with your demanding caregiving routine when you partner with Visiting Angels Winston-Salem. All it takes is a brief call to our local office to schedule a care consultation, which comes with no fees and no obligations. Once this consultation is complete, you'll have a framework in place for the support you need to take time off without worry.
Call Visiting Angels Winston-Salem today to reserve your respite care consultation in Winston-Salem or a community in the vicinity such as Clemmons or Kernersville.
Serving Winston-Salem and the Triad
Visiting Angels
WINSTON-SALEM, NC
1540 Westbrook Plaza Dr #104
Winston-Salem, NC 27103
Phone: 336-665-5345 First Time Inquiries
336-893-8156 General
Fax: 336-893-8184