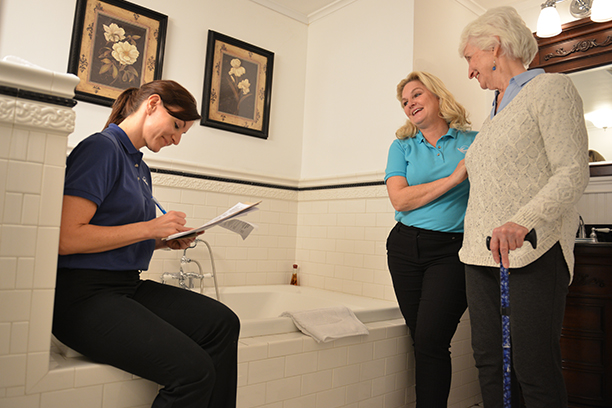 Long Distance Elder Care in Woodbridge
How Elder Care in Woodbridge Can Help Your Family Find Peace of Mind
Over time, you may find yourself living farther away from parents and other family members. School, work, and relationships take us to different parts of the country or even the world. That makes it challenging when you're trying to support a family member who lives thousands of miles away in Woodbridge, Stratford, New Haven, Hanson, or Millford. It may be a good time to consider long-distance elder care services.
At Visiting Angels® Woodbridge, we work with families to ensure your aging loved one has in-home elder care on a regular basis. We know this process can be difficult for you and your family, and that distance only makes these choices more difficult. Our compassionate care team will always take the time to answer questions, provide updates, and get input on care decisions that help your loved one thrive.
Elder Care in Woodbridge That Takes Your Loved One's Needs Into Account
We always put our clients' considerations first at Visiting Angels Woodbridge. But we also appreciate how important it is to make sure that family members are comfortable with elder care decisions. Our care team can communicate with you by phone or email to make sure that family living outside the region can participate in crucial conversations:
Providing initial input. When we formulate a care plan for your family member, you and your loved one will be able to weigh in together on the type of care as well as the caregiver that's chosen.
Getting care updates. We can make sure that your family receives regular updates on how your loved one is doing. You can reach us 24 hours a day, 7 days a week, and we'll get back to you immediately.
Learning about changes. It's crucial to adapt care when a senior's needs change. You can get in touch if your loved one needs more comprehensive care, so we can both make sure they're getting looked after.
A Personalized Approach To Elder Care at Visiting Angels Woodbridge
With Visiting Angels Woodbridge, our home care services are always personalized to our clients' needs, preferences, schedule, and even their personality. We know that routine can be crucial in maintaining stability for many seniors. That way, we offer maximum support with minimal disruption. Together, we can make sure your loved one has help at all the times when it's needed.
Get in touch with Visiting Angels Woodbridge today. Our care team can answer any questions you have about elder care options in the area.
Serving New Haven County, CT and Surrounding Communities
Visiting Angels
WOODBRIDGE, CT
264 Amity Rd #208
Woodbridge, CT 06525
Phone: 203-298-9700
Fax: 203-298-9677