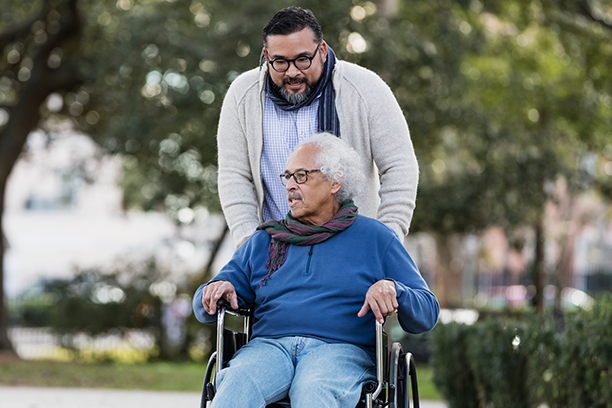 Non-Medical Services for Individuals with Terminal Illness or Nearing End of Life
We offer non-medical services that offer physical and emotional support for individuals with a terminal illness or nearing their final stages of life. Caregivers provide assistance to your loved one while giving your family the support they need at this difficult time.
While death is a natural part of our life cycle, the process doesn't make it any less difficult. An increasing number of people are choosing to remain at home, so it's important that families have access to compassionate and supportive non-medical home care services.
At Visiting Angels®, we provide options to help you and your loved one during this transition. Our care team will keep your loved one as comfortable as possible by providing companion and homemaker services. We will also support you and your family, providing a helping hand whenever you need one.
What Non-Medical Services Do We Offer?
When a family member is diagnosed with a limited life expectancy, in many cases, responsibilities fall on close family and friends. If you find yourself in this position, you might also find that you don't have the physical or emotional strength to shoulder these responsibilities all on your own. Visiting Angels can help.
Our compassionate companion and personal care services give you, your family, and your loved one the assistance needed during the final stages of life. Visiting Angels offers a dedicated level of support you need through our Life Care Navigation™ collection of senior care services. Our approach is outlined in our Practical Care Tips for End of Life program, designed to provide caregivers with the information needed to support and assist clients and their families.
Under these guidelines, Visiting Angels offers a client-focused approach that is centered around your loved one's comfort and well-being and focuses on his or her physical, emotional, social, and spiritual needs. Caregivers provide essential personal home care services to help:
Assist with personal tasks such as dressing, bathing, and daily hygiene
Alleviate feelings of loneliness, stress, and anxiety

At the same time, we make sure that family and friend caregivers get the respite and assistance they need. We perform tasks such as meal preparation, laundry, light housekeeping, shopping, and running errands. Our caregivers provide an anchor that family caregivers can turn to for moments when they feel overwhelmed, offering emotional support or a helping hand whenever needed.
Free Consultations
Visiting Angels can provide the compassionate non-medical care and support you need during this difficult time. To help you find the right options for your loved one, we invite you to contact your local Visiting Angels. We will be happy to provide any information you need and help you find a convenient time and place for an in-person meeting with a Visiting Angels care director.
For more information on non-medical services for those with a terminal ill or end of life care or to schedule a no-cost meeting with a Visiting Angels care director, contact your local Visiting Angels office.
Serving New Haven County, CT and Surrounding Communities
Visiting Angels
WOODBRIDGE, CT
264 Amity Rd #208
Woodbridge, CT 06525
Phone: 203-298-9700
Fax: 203-298-9677