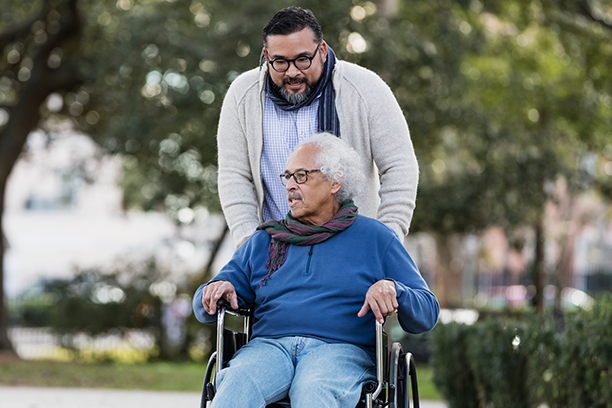 Outstanding Home Care Services in Oklahoma City
Why Choose Visiting Angels Oklahoma City?
Are you the caregiver for an elderly relative? Are they beginning to experience a decline in physical health, aptitude, or memory? Are their needs sometimes difficult to balance with your own? If any of these situations resemble your own, it may be time to consider home care from Visiting Angels Oklahoma City. Our home care services help seniors across, El Reno, Yukon, Warr Acres, Bethany, Norman, OKC, and Edmond to continue living in their own homes by providing both high quality care that keeps them happy and healthy. It's not just our seniors who benefit. Their families do, too. They get the stress-free support they need in order to keep themselves running at full steam.
A Variety of Home Care Services Options
Visiting Angels Oklahoma City recognizes that seniors come in all shapes and sizes, so our in home care services do as well. We offer a broad spectrum of options to suit a broad spectrum of potential needs. From providing assistance with essential everyday tasks like feeding and washing all the way through to teaching them to use email and video chat, our expert caregivers can do it all. We also offer assistance with major transitions, like moving your senior between hospital and home, or from one home into another.
Compassionate Caregivers in OKC
Fantastic assisted home care starts with fantastic home care providers. That's why Visiting Angels Oklahoma City chooses only stand-out community leaders from within OKC and the surrounding communities to be part of our incredible group of caregivers. Our team is made up of individuals who demonstrate a passion for elder care and an extraordinary capacity for compassion. When you choose Visiting Angels Oklahoma City for your home care, you'll get to meet and choose the caregiver that's right for you and your loved one with our Select Your Caregiver® program.
More Than Just Home Care
We don't just prioritize the physical health and well-being of the seniors we serve, but also their emotional well-being by ensuring that their dignity always comes first. Our caregivers spend time getting to know your loved one so whether they are only occasional visitors or full-time caregivers, they are always providing personalized care for your loved one. That's how home care from Visiting Angels Oklahoma City helps preserve a senior's independence while still bringing you both peace of mind.
Call Visiting Angels Oklahoma City today to learn more about our home care options and get your senior on the road to independent living at home.
Serving the Greater Oklahoma City Area and West to Yukon and El Reno, OK
Visiting Angels
YUKON, OK
713 S Mustang Rd
Yukon, OK 73099
Phone: 405-350-6700
Fax: 405-354-0541