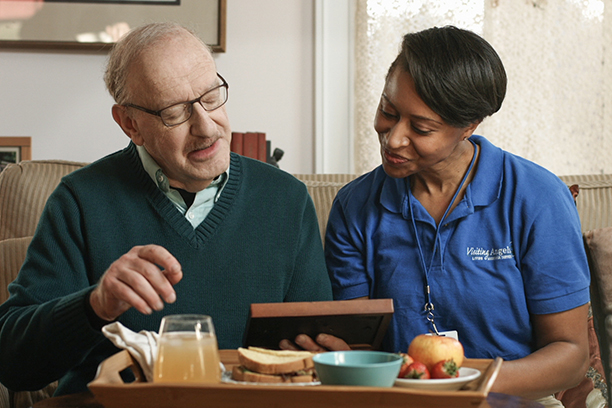 Transitional Care in Oklahoma City 
Ready-Set-Go Home with Transitional Care
When a parent or loved one is admitted to the hospital, the goal is often to get them better and get them home. Hospital stays disrupt the flow of daily life and may cause emotional and financial stress for families, so it is not surprising most seniors are anxious to return home as quickly as possible. Imagine the frustration at being discharged from the hospital, only to return within the first 30 days. For nearly 1 in 5 seniors, this is a reality. Transitional care services from Visiting Angels® Oklahoma City OK can help your loved one avoid becoming a statistic.
Visiting Angels Oklahoma City provides transitional care to elderly and disabled adults in the Greater Oklahoma City area and West to Yukon and El Reno. Non-medical care from our agency can help your loved one continue their recovery at home and avoid the cost and frustration of hospital readmissions. Transitional care providers from Visiting Angels Oklahoma City are adept at caring for seniors at home and can offer your loved one compassionate support.
Common Causes of Hospital Readmissions
There are many factors which contribute to disrupted recovery of seniors. Visiting Angels Oklahoma City specializes in transitional care to help your loved one avoid recovery pitfalls which may send them back to the hospital. Some of the common causes of hospital readmission include:
Forgetting medications or taking them improperly
Ignoring physical restrictions and doing too much
Trouble following a doctor prescribed meal plan
Inability to get to follow-up appointments or therapy
Exhaustion because of disrupted sleep schedules
Not following discharge instructions from their doctor
Difficulty managing an illness at home
How Visiting Angels Oklahoma City Helps
Visiting Angels Oklahoma City can help your loved one by providing transitional care at home. In fact, our assistance starts while your loved one is still in the hospital to help ensure a smooth transition. Our care coordinator can visit your loved one and provide a copy of our discharge planning brochure to help keep track of things such as follow-up appointments, medications, dietary restrictions, and more. Once home, transitional care providers from Visiting Angels Oklahoma City can assist with tasks such as walking, preparing meals, medication reminders, transportation, and other non-medical forms of assistance.
Call Visiting Angels Oklahoma City today to hear more about our transitional care and how it can help your loved one avoid hospital readmission.
Serving the Greater Oklahoma City Area and West to Yukon and El Reno, OK
Visiting Angels
YUKON, OK
713 S Mustang Rd
Yukon, OK 73099
Phone: 405-350-6700
Fax: 405-354-0541