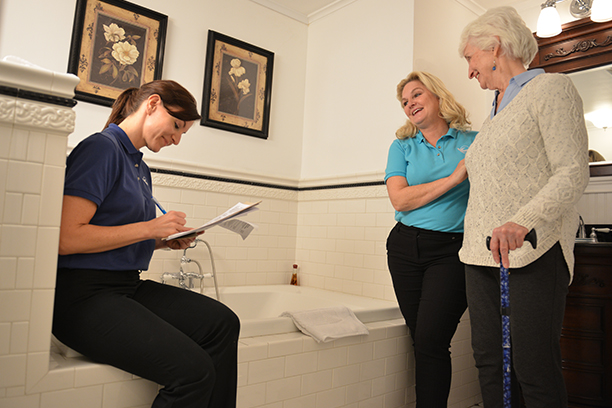 Palliative Care
Palliative care is a specialized caregiving approach that supports individuals living with a chronic illness. Our compassionate caregivers help individuals with chronic conditions remain at home by creating calming and supportive environments.
Our care team focuses on an individual's physical comfort as well as their emotional, social, and spiritual well-being.
What Is Palliative Care at Home?
In-home palliative care services provide supportive care so that your loved ones can remain in the place they cherish - home.
There are key differences between hospice care and palliative care. Hospice care is provided to individuals with limited life expectancy while palliative care can be provided regardless of a person's life expectancy.
In addition to our home care services, we also offer a dedicated program for end of life care.
Our Palliative Care Services
Through our unique Palliative Care Certification Program, we offer care with a focus on the following four areas:
Physical Needs
We focus on your loved one's physical needs and personal comfort.


Emotional Needs
We identify what is important to our clients and make their lives the best they can be through maintaining their favorite routines and activities..


Social Needs
We develop close relationships with clients and their families. We provide companionship and conversation to relieve feelings of loneliness and isolation.


Spiritual Needs
We strive to restore hope for your loved one and your family by helping you find peace of mind in a challenging time.
Palliative In-Home Care
If you have a loved one who is living with a chronic condition, we invite you to contact your local Visiting Angels home care office to learn more about our compassionate approach to home care.
Before getting started, Visiting Angels will provide your family with a free home care consultation that helps us to learn more about your loved one's needs. With input from you and your loved one, we will develop a personalize care plan.
Ready to get started with palliative care?
Find your nearest Visiting Angels' home care agency today or CONTACT US to learn more about our services!
---
Palliative Home Care FAQs
What is the Origin of "Palliative Care?"
"Palliative care" is a term that comes from the Latin word palliare, meaning "to cloak." From the beginning, caregivers across the continuum viewed palliative care as a way to reduce suffering and improve a person's quality of life.
What Is the Difference Between Palliative Care and Hospice Care?
The primary difference is the life expectancy of the individual. Hospice care is available to those with a life expectancy of six months or less. Palliative care is available to individuals regardless of life expectancy.
How is Palliative Care Delivered in Home Care?
Our Visiting Angels caregivers are offered non-medical certification in palliative care. Their primary focus is to deliver comfort care and compassion that addresses the physical, emotional, and spiritual needs of our clients with the overall goal to impact quality of life.
How Long Can an Individual Use Palliative Care?
There is no limitation period an individual can receive this specialized care service unless indicated from a payer source.
Serving All of Washtenaw County
Visiting Angels ANN ARBOR, MI
2860 Carpenter Rd #300
Ann Arbor, MI 48108
Phone: 734-929-9201
Fax: 734-929-9202