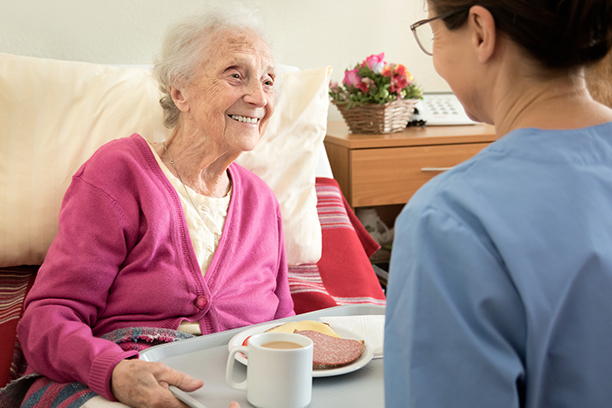 What Makes Visiting Angels Different
Since 2006, our agency has grown month after month, providing thousands of hours of care per week for seniors and their families around Tulsa and Green Country!
In 2014 we were recognized by our national franchise office as being the top fundraising Visiting Angels office among 500 franchises, raising over $33,000 for the Alzheimer's Association!
We were the recipient of the 2015 BBB Torch Award for Marketplace Ethics, recognizing that Visiting Angels is a leader in integrity, fairness and honesty in the workplace in Tulsa Metro.
We have offices that cover both the Tulsa and Bartlesville metro areas.
Our agency actively supports the American Cancer Society in a variety of its fundraising efforts, including the Relay for Life in several communities.
We assess all the needs of our clients, not just for the services we provide, and have trustworthy resources to refer additional services and/or equipment.
We allow our clients to help select their caregiver, making the homecare process much more comfortable for our Clients and their families.
We answer our own phones after business hours and don't use an answering service that doesn't know our clients and caregivers. Calls are returned in 15 minutes or less.
We individualize care plans to meet the specific needs of our clients, and place compassionate caregiver's in those specific care tasks to meet our client's needs.
We use a telephony system to monitor timely care, and are alerted 24 hours a day if a caregiver clocks in over the home phone more than 10 minutes late. This system is integrated for accurate billing.
We retain caring, high quality caregiver's much longer than industry average. We have caregiver's that have been with Visiting Angels for years.
Our response time is excellent! Although we typically need 36 to 48 hours to complete registration paperwork, perform a nurse assessment and schedule staff, we have placed care in a home in as little as 1 hour in an emergency situation.
Our Caregivers are screened thoroughly by reference checks, two in-depth interviews, and criminal background checks. We not only perform the state mandated check by the OSBI, but we also perform a fingerprint based national Background check on all potential employees.
We perform a five panel drug test on our staff, even though a drug test is not required by the state of Oklahoma. Our agency pays for this test, because it is passionate about sending only qualified and safe caregivers into the home.
Our Caregiver's are thoroughly trained and tested in Caregiving Skills, Alzheimer's & Dementia, HIPAA Privacy Information, Infection Control and Blood borne Pathogens, Elder Abuse and Neglect, and Caregiver Roles and Responsibilities.
We frequently check on service satisfaction, by phone and unannounced supervisory visits. We build relationships with families, and stay in touch with families long after service has ended.
We educate and inform families, reducing their anxiety, stress, empowering them to make improved quality of life decisions. We update Physicians, Social Workers, Trust Officers, and Families as needed.
We use Home Care Pulse, a nationally recognized quality control survey company, to contact both our clients and our staff to randomly survey them regarding our services, communication, training and care!
Visiting Angels of Green Country, with offices in Tulsa, Owasso & Bartlesville, is owned by Page Cole, a former pastor who with nearly 25 years' experience in caring for the needs of senior adults.
Our owner has created an app on the iTunes Store (available FREE) called LifeChest. The app is designed to help families who are involved in the caring process for the parents as they try to gather all of their life information into one easy, secure location. For the technologically challenged, the app is also in book form on www.Amazon.com!
Our owner has also authored an award winning resource entitled "Protecting Your Nest Egg: Fraud Protection for Senior Citizens from Con Artists, Thieves and Scams". It is available from our office free with any in-home consultation. Additional copies may be purchased at www.Amazon.com.
Serving Bartlesville, Dewey, Nowata and Ramona
Visiting Angels
BARTLESVILLE, OK
1401 SE Washington Blvd
Bartlesville, OK 74006
Phone: 918-333-7400
Fax: 866-576-2012