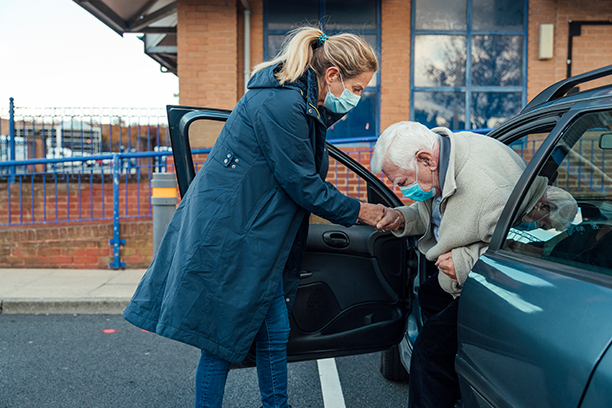 Do You Have Questions About the Home Care Options Available to Your Loved One with Alzheimer's in West Hollywood, Los Angeles, Beverly Hills, CA, or the Surrounding Area?
Visiting Angels Offers a Wide Range of Home Care Options for Seniors with Alzheimer's Disease in West Hollywood, Los Angeles, Beverly Hills, and Nearby Cities
At Visiting Angels Los Angeles/Beverly Hills, we have heard from many clients who fear that a diagnosis of Alzheimer's or dementia means their loved ones will have to move into an expensive facility. In reality, many home care options can allow your loved one to stay safe and happy at home. For seniors who choose to age in place and maintain their independence, Alzheimer's care services can make a big difference in their quality of life.
What Is Alzheimer's Disease?
Alzheimer's disease is a specific type of dementia. Dementia and Alzheimer's are diseases that affect brain functions like memory, behavior, and critical thinking. One key difference is that dementia may not be progressive, meaning your loved one's symptoms may not change over time. Alzheimer's is a progressive disease, meaning your loved one's health will change over time.
What Will Happen to My Loved One?
In the early stages of Alzheimer's, your loved one might be more forgetful, misplace items more often, or have trouble remembering directions. In intermediate and later stages, your loved one will likely struggle to complete daily household tasks, recognize people and places, and even communicate. Because Alzheimer's is degenerative, your loved ones will need care that is adaptive to their changing health.
How Can a Caregiver Help?
When you opt for our home care options, we will supply you with a caregiver specializing in memory care. In the beginning, your loved ones may only need help with cooking, medication reminders, and transportation to doctor's appointments. As their condition progresses, needed services might expand to include mobility assistance, help with bathing or toileting, and around-the-clock monitoring. Memory care support always includes emotional and mental health support from a dedicated Angel.
Does My Loved One Have to Move into a Nursing Home If They Have Alzheimer's?
No! If your loved one wants to remain at home, our home care options are ready and available! A caregiver's assistance can keep them safe and comfortable at home even if their Alzheimer's is progressing. At Visiting Angels Los Angeles/Beverly Hills, we believe that seniors should be able to choose how to live their lives. It is always our goal to help your loved one stay safe, healthy, and comfortable at home for as long as possible.
Schedule Your Free, In-Home Assessment
If you are helping to care for a loved one with dementia or Alzheimer's in West Hollywood, Los Angeles, Beverly Hills, Mar Vista, or the surrounding cities, you may have more home care options available to you than you think. Call our senior care agency today to schedule a free, in-home assessment with one of our experienced care coordinators. Our staff will be happy to answer any questions you may have and begin the process of developing a care plan specific to your loved one's needs, schedule, and budget.
Serving West Hollywood, Los Angeles, Beverly Hills, Mar Vista, Culver Garden, Rancho Park, Cheviot Hills, Beverlywood, and Surrounding Areas
Visiting Angels WEST HOLLYWOOD, CA
8265 W Sunset Blvd #101
West Hollywood, CA 90046
Phone: 323-512-4357