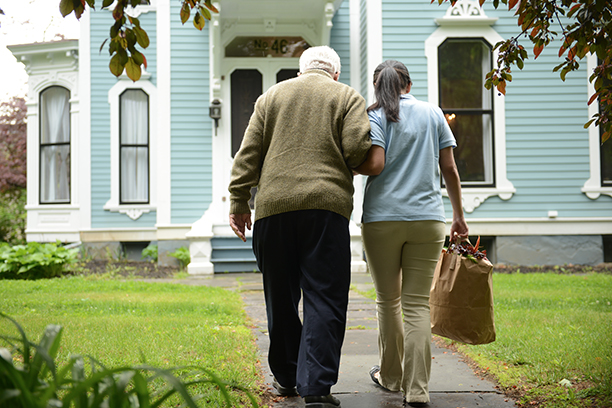 Fall Prevention for Seniors Offered by Home Care Aides in West Hollywood, Los Angeles, Beverly Hills, and the Surrounding Area of California
Visiting Angels Provides Seniors with Home Care Aides Who Can Help Them Avoid Dangerous Falls in West Hollywood, Los Angeles, Beverly Hills, and Nearby Cities
When seniors fall, it can drastically change their lives. Falls can be painful and sometimes cause serious physical injuries. However, people can also suffer emotionally and socially from falls as the fear of falling can cause seniors to avoid leaving their homes. A decline in attending social events and leaving the house often leads to loneliness and depression. Visiting Angels Los Angeles/Beverly Hills has home care aides that provide essential fall prevention to help avoid dangerous falls and help them stay independent after a fall.
The Importance of Fall Prevention
One in five seniors who fall experience a severe injury, and one in three seniors fall every year. This adds up to over 800,000 elderly adults who are hospitalized every year due to a fall. For seniors, recovering from fall-induced injuries can require up to a year of staying in a long-term care facility, and many seniors who fall cannot return home.
At Visiting Angels Los Angeles/Beverly Hills, our home care aides are determined to keep your loved ones safe. Falls are generally caused by risk factors, which can increase your loved one's risk of falling. Your loved one's physical condition, surrounding home environment, poor eyesight, dehydration, and taking multiple medications are all risk factors that could result in falling. Our caregivers can help your loved ones address the risk factors they face, which can prevent most falls.
Our care providers are committed to increasing seniors' quality of life and educating families about fall prevention tactics because most falls can be prevented with the proper precautions.
Schedule Your Free, In-Home Assessment
To learn more about fall prevention or our home care aides in Los Angeles, Beverly Hills, West Hollywood, or the nearby area, contact our care agency today! Our staff will be happy to go over your senior home care options and schedule a time for your free, in-home assessment with you and your loved one. We will help you develop a quality care plan that revolves around your specific needs, schedule, and budget during this consultation.
Serving West Hollywood, Los Angeles, Beverly Hills, Mar Vista, Culver Garden, Rancho Park, Cheviot Hills, Beverlywood, and Surrounding Areas
Visiting Angels WEST HOLLYWOOD, CA
8265 W Sunset Blvd #101
West Hollywood, CA 90046
Phone: 323-512-4357