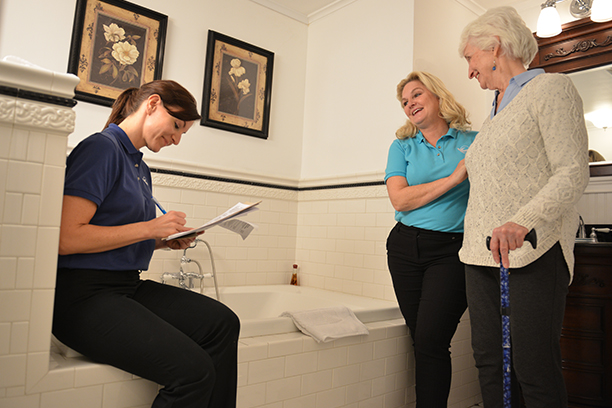 Respite Care for Family Members in West Hollywood, Los Angeles, Beverly Hills, and Nearby Cities
Visiting Angels Helps Prevent Caregiver Burnout in Families with Our Respite Care in West Hollywood, Los Angeles, Beverly Hills, and Surrounding Areas
When an aging loved one's health changes, family members often start to help with obvious needs. Maybe you give your loved one rides to and from doctor's appointments or bring over home-cooked meals. Family caregivers often cope with a wide range of needs, as well as an increase in what's needed as your loved one ages. At Visiting Angels Los Angeles/Beverly Hills, we know there's nothing more important than your loved one's well-being. That is why we offer respite care services that can supplement and support your whole family.
Taking a Step Back
Respite care gives family members the opportunity to take a step back, focus on other priorities, and have time to care for themselves. Caregivers often say, "you can't pour from an empty cup," meaning you can't take care of someone else's needs when your own needs aren't met. Private home care can be essential support for you and your family to make sure that you can remain engaged and capable of your loved one's care for as long as they need you.
Respite care allows for you and other family caregivers to be able to step away from caregiving duties, for any amount of time, while making sure that your aging loved one has the help they need.
Collaboration is Key with Respite Care
You and your family remain very much a part of your loved one's care during the respite care process. Family member input is especially important for:
Creating a schedule. Whether our home care providers are with your loved one for a few hours a day, overnight, the week you go on vacation, or any other amount of time—we'll work with you and your family to make sure you have the coverage you need.
Collaborating with medical providers. Caregivers can help your loved one keep doctor's appointments, keep up with physical therapy, and more. If your loved one needs transportation, mobility assistance, or any other help accessing medical care, we will work with you to understand which providers we'll be working with and the logistics of helping your loved one. We can even take detailed notes during medical appointments so that you can keep up with your loved one's progress.
Relationship building. It's not unusual for our clients to say that their caregivers became part of their family! It's important to us that your loved one's caregiver is compatible, knowledgeable, and a good personality fit. Your family will have the opportunity to interview any home care provider we recommend to you as a provider of your loved one's care.
Recharge, Rest, and Refresh
All of us need time to recharge and rest, and family caregivers can often find themselves overworked in maintaining professional, personal, and family responsibilities. Working with Visiting Angels Los Angeles/Beverly Hills can give your family time to focus on other needs, as well as the assurance that your loved one is receiving the help they need. We offer respite care as a specialty and as a standalone service, meaning whenever your family caregivers need to step away, we can step in and provide one-on-one home care for your loved one.
Schedule Your Free, In-Home Assessment
If you are helping to care for an aging family member in West Hollywood, Los Angeles, Beverly Hills, or the surrounding area and you need another pair of hands to help, contact today at 323-615-1763 to learn more about our senior home care services and to schedule your no-cost, in-home assessment.

Serving West Hollywood, Los Angeles, Beverly Hills, Mar Vista, Culver Garden, Rancho Park, Cheviot Hills, Beverlywood, and Surrounding Areas
Visiting Angels WEST HOLLYWOOD, CA
8265 W Sunset Blvd #101
West Hollywood, CA 90046
Phone: 323-512-4357