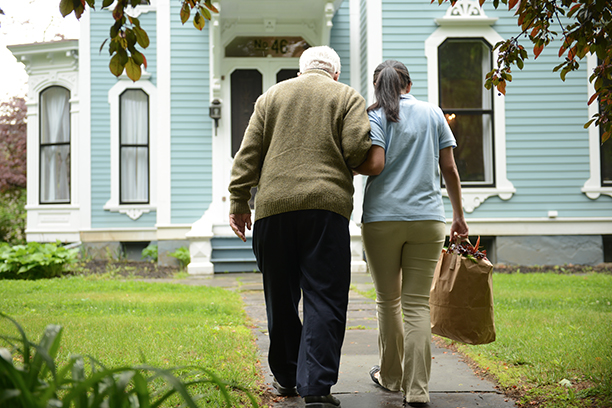 Comforting Palliative Care for Seniors in Bradenton, FL
The Certified Palliative Care Program from Visiting Angels provides quality care and support for seniors in Bradenton, Longboat Key, Palmer Ranch, Palmetto and the surrounding areas in Florida
At Visiting Angels Bradenton, we provide referrals to caregivers who can provide comprehensive senior care solutions through our Certified Palliative Care program. This sort of care focuses on improving an older adult's quality of life and alleviating any discomfort they may be facing. This is done by assisting them with whatever they need to ensure their physical, emotional, social and spiritual needs. Our program goes above and beyond that provided by other home care agencies.
There is often a lot of confusion between palliative and hospice care. In fact, many individuals use them interchangeably, but they are actually different types of care.
They do have their share of similarities, however. Both palliative and hospice care are aimed at making older adults more comfortable and improving their quality of life. They are not aimed at finding a cure. Where palliative and hospice care differ is that the latter is for patients in the later stages of their lives while the former is for individuals that need intensive care aimed at making them more comfortable and improving their quality of life.
Learn More About the Certified Palliative Care Program from Visiting Angels Bradenton
At Visiting Angels Bradenton, we believe in the work we do. We subscribe to a traditional model of care, which aims to enrich the lives of older adults through professional non-medical in-home senior care.
This program is actually part of our Life Care Navigation™ brand of in-home care for older adults. Our Life Care Navigation™ brand of care also entails end of life care. This is care aimed at helping seniors in the final stages of their lives.
Visiting Angels Bradenton trains our network of independent caregivers in providing quality comprehensive senior care. We have a philosophy of care that centers a supportive, soothing and comforting environment. We begin with a holistic approach in mind. We are all about making sure our clients have hope and are living life on their own terms considering their circumstances.
Our referred caregivers address:
A senior's physical needs by paying attention to signs of discomfort and distress and respond with a non-medical approach.
A senior's emotional needs through providing a compassionate environment. This helps older adults dealing with depression, loneliness, stress and even anxiety.
A senior's social needs by providing quality companion care.
A senior's spiritual needs by treating them with the dignity and respect they deserve to help them find comfort from problems that stem from old age.
To find out more about our palliative care options, please call our Bradenton, FL office today.
Serving Bradenton, Bradenton Beach, Bayshore Gardens, Ellenton, Lakewood Ranch, Longboat Key, Palmetto, Parrish and Surrounding Areas
Visiting Angels BRADENTON, FL
4814 26th Street West #A
Bradenton, FL 34207
Phone: 941-758-4500
941-758-4505
NR3021171